The Return of Volleypalooza
Varsity volleyball places 29 of 68 teams in tournament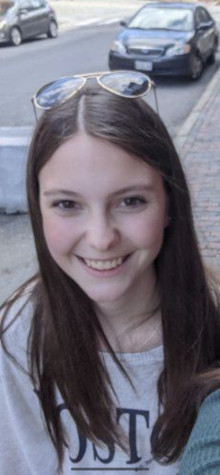 More stories from Katie Griffith
      Volleypalooza returns to Rouse as one of the largest tournaments in the country after coronavirus shut it, as well as many other tournaments, down in 2020. The varsity Volleyball team went 5 – 4 in the three day tournament, placing 29 out of 68 teams.
     "It is the largest tournament in the country," Head Coach Jacob Thompson said. "The most competitive tournament in the state. 68 teams come from all over Texas, and we have a team from California this year who is a top five team in the country."
     Volleypalooza began in 2010 as a tournament for volleyball teams across Texas to compete in. Teams can come from all over the state of Texas, including the Houston and Dallas area, the Panhandle, West Texas and the Valley.
     "We started Volleypalooza 11 years ago," Thompson said. "In 2010 when I was approached by coaches around the state they asked if we would be willing to run a tournament, and we had the facilities in Leander ISD to run the tournament properly."
     Volleypalooza had originally started with 28 teams, but it has continually grown each year. There were so many teams, the tournament had to be held at all Leander ISD high schools, and this year Westwood and Round Rock are being used as well. According to Thompson, 17 courts were used on Thursday, 18 courts on Friday and 16 courts on Saturday.
     "They know who's in our pool, they know who's in our tournament," Thompson said. "The team's excited to see the competition."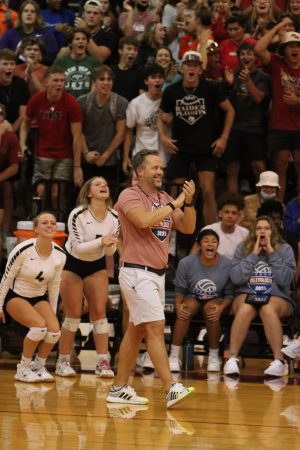 The Raiders were able to solidify the win in 2017 during the Volleypalooza tournament, allowing the Rouse name a space on the Volleypalooza traveling trophy. So far this is the only tournament win that Rouse has been able to take.
    "We have a traveling trophy that goes home with the winners," Thompson said. "Then they bring it back the next year and their team name gets engraved on it."
     Players and coaches were recommended to wear masks, but they were not required and the choice was left up to each individual. Spectators, including parents and even the student body, came to watch the tournament, cheer on the team, and raise the game day energy.
     "We haven't had a normal game in a long time, but today having some students come to school to watch us, it gives us a lot more energy when there are students that we go to school with that cheer us on individually," junior Kayla Lopez said. "Our parents obviously help a lot. Our bench during the game days are always super loud and get us hyped. Game day energy is super great."
     Since Volleypalooza is one of the largest and most competitive tournaments in the state, fierce and great competition is expected among the Varsity players. 
     "Predictions are so difficult because it's hard to predict anything with this level of competition," Thompson said. "If you have a bad day, or a bad match it could cost you for the whole tournament. My prediction is that it's gonna be really good volleyball over the course of three days." 
      To help bring camaraderie to the game, many teams have pre-game rituals. The Rouse Varsity players have some of their own.
     "We do this thing called grids," Lopez said. "It's 99 boxes on a piece of paper and you have to go from 0 to 99 in order, and it basically gets our mind focused. After that we do a dance party to get hyped and get warmed up. We always do the same song at the end." 
     For the players, they have to learn to balance games, practice, academics, social life, jobs and even more. In a tournament like this, that takes them out of school for two days, and takes up some of the weekend, it can sometimes be hard to catch up on all that the athletes have missed.
     "You definitely have to prioritize what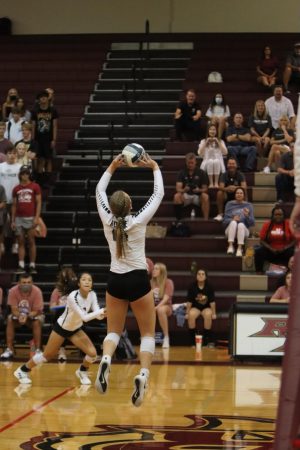 comes first," sophomore Savannah Skopal said. "Volleyball takes up a lot of time, and I manage that with school work. Whenever you have free time you focus on your schoolwork, or you have friends to help you out, even between games. Just prioritize what comes first."
     Although Rouse did not place first, they're using the tournament to learn how to strengthen for the district season and the future games to come.
     "This tournament, it's not easy," Skopal said. "Every point matters, and every team is gonna be good no matter what side of the court you're on. We got to adjust as we play them. I think we just got to play our game and have fun and we'll be able to do what we want to and accomplish what we want to."  
Leave a Comment