Gym·nas·tics
Exercises developing or displaying physical agility and coordination with events such as floor, bar, beam and vault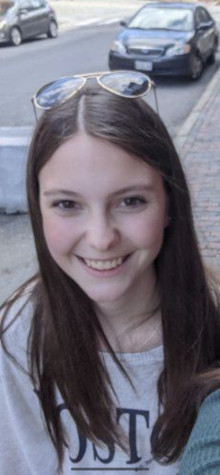 More stories from Katie Griffith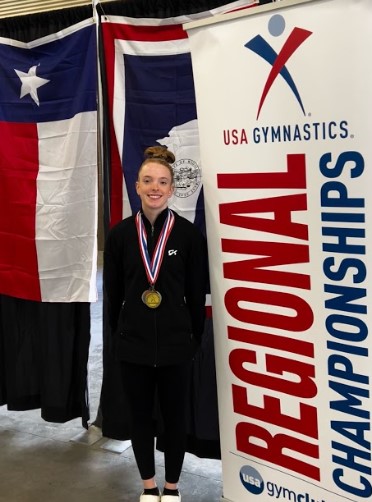 It's been seen before. In fact, it was first seen by a multitude of people in 1896 when it joined the Olympics. Gymnastics has since changed and grown into a sport requiring flexibility, perseverance and a skillset that takes years of practice.
Junior Abby Coyle has been in the gymnastics program for 14 years. She most recently won three regional titles during the Regional championships after tearing her ACL, which kept her out of competitions for 18 months.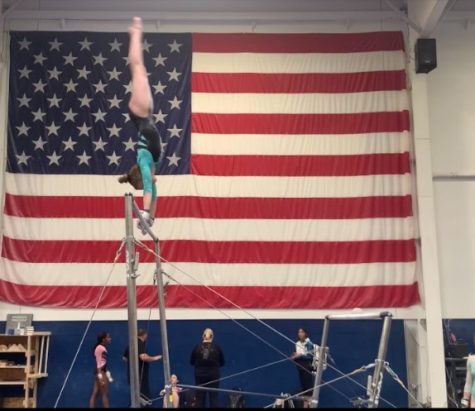 "I'm pretty proud of myself for coming back and then being able to go and win State and Regionals," Coyle said. "It's something I never thought I would come back to, but I did. It made it come full circle with a realization that I really did come back to my full capabilities."
Competitions in gymnastics are based on levels of one through 10. Levels one through five compete in the summer, while levels six through 10 compete during the winter. A regular competition season has about five to seven invitational meets, where you can then qualify to State, and eventually Regionals (a combination of seven different states). Gymnasts levels nine through 10 can go on to Westerns/Nationals.
 "It feels really good to place in a competition because it shows you that all your hard work has paid off," Coyle said. "Placing first in State that you are the best in all the state of Texas. And if you place first in regionals, it tells you you're the best across a whole seven states, which is pretty awesome."
Competitions also come with more challenges than just the competing. While gymnastics tends to be more focused on the individual, scores count towards a team standing as well. According to Coyle, this can be stressful when gymnasts don't have their best performance.
"I would say the worst part is just feeling like you've let yourself, or others around you down when you don't have your best performance," Coyle said. "Knowing that you could probably do better, but you didn't perform at your best is really hard."
Coyle has only ever been on one team during her gymnastics career, so she has been able to build a tight-knit community with her teammates over the years.
"The best part is the relationships and the teammates that you have and the friendships that you make because those will definitely last forever," Coyle said. "There have been a lot of girls who have left and some that have joined, but I've had the same coaches pretty much my whole life."
The relationships she has built has grown over both competing with her teammates, but also practicing with them as well. Practices, over the competition season, are four to five days a week for four hours each day. For Coyle, this means learning how to balance practices with the school load. 
"It's a lot of time management, a lot of doing homework right when I get home from school, or right when you get home from practice or even at school," Coyle said. "I have to put in a lot of time on the weekends, too, just to make sure I'm all caught up."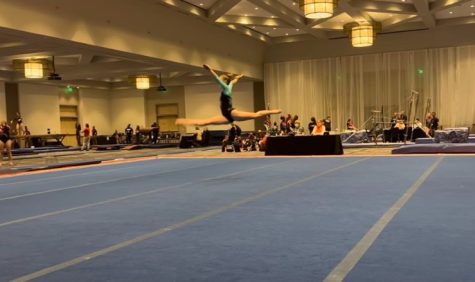 Not only does it take a lot of time management, but gymnastics requires motivation to keep persevering despite the challenges. 
"My motivation is the fact that I love the sport that I'm doing," Coyle said. "I do it because it's something that makes me happy and it's a nice distraction from the stressfulness of school."
However, gymnastics wasn't Coyle's first sport. She had started with cheer and dance when she was 3, and decided to try out gymnastics while she was at the gym one day. 
"When it came to deciding between the three sports, I chose gymnastics," Coyle said. "I don't really know why I chose it, but at the time it must've been something that I enjoyed a lot more than cheer or dance. It was fun to be able to learn new skills."
While she enjoys the sport now, gymnastics isn't something that Coyle sees for herself in the future. Instead, she wants to try Acrobatics and Tumbling, a sport similar to gymnastics but with a different aspect to it.
"After doing gymnastics for 14 years it gets a little repetitive at times," Coyle said. "It's a mentally draining sport, but it's definitely worth it."
Leave a Comment