Tee it high, let it fly
Varsity golf team trains vigorously as they advance to district tournaments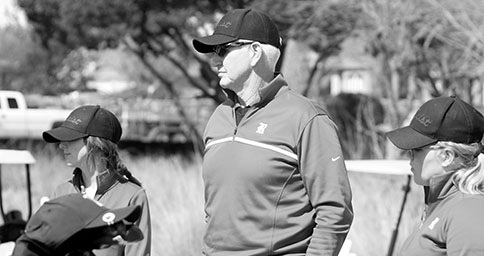 The girls golf team will play in the district tournament March 25-26, and the boys team will play April 3-4. The top three teams and top three individual players will advance to regionals.
    "The district tournament is always a highlight for the team," golf coach Mike Hilsabeck said. "The excitement and anxiety of knowing we're playing for a chance to advance to the next round adds an element of pressure that isn't there during the invitational tournaments. Seeing how our golfers respond to that pressure creates an excited nervousness."
    The golfers are constantly working on all aspects of their game. They have intrasquad competitions three days a week at Crystal Falls Golf Course and also work on their short games at school on Wednesdays.
    "To prepare for tournaments I spend a lot of time on the practice green," senior Caleb Coffman said. "It's important to be able to save yourself from bad shots and make the best out of the worst shots in every round. I'm excited to see if I can take it all the way to state this year."
    Mondays and Thursdays golfers practice on the course. On Mondays, they don't keep score, but their results determine what they need to work on for that week. On Thursdays, they keep score to determine their rank.
    Junior Erin Stewart said she is having a good year and working for more success.
    "I shot my new personal best and broke the girls' school record," Stewart said. "I'm looking forward to spending more time with the team as the season continues and being able to see the hard work we've put in play off."
    In September, the boys team won their first tournament at Delaware Springs. It was a team scramble format, and they shot 15 under par. A team scramble, also known as a best ball, is when three golfers and their coach all take one shot and go to the best shot of the four and then all of them play their next ball from there.
    "My scores have improved a ton since freshman year, and my short game has gotten exceptionally better," sophomore Haigen Smith said. "I think I'll be able to continue to improve my game this year and hopefully help the varsity boys to the regional finals."