Attending college camps. Inviting coaches to watch at games. Visiting top choice schools. The college recruiting process is an exhilarating but stressful time for athletes trying to attend the college of their dreams, playing for teams they have looked up to for years.
According to the NCSA sports organization, coaches start reaching out to recruits the summer after the athlete's sophomore year. Aspiring college commits then invite coaches to watch them play throughout the summer and year and they attend college camps to show their interest in the campus. Junior Maria Reyes Avina is committed to The University of Texas at San Antonio for soccer.
"I found out I was receiving an offer from UTSA when I went on a visit with my mom," Reyes Avina said. "This was all kinda new to me, so I didn't know what to expect. When Coach Pittman told me the news, I couldn't contain my excitement. When we finished the visit, my mom and I celebrated with some ice cream."
Committed with a full scholarship to Arizona State University for the Sun Devils Volleyball team, senior Jadyn Wilgus plans to attend in spring of 2024 as she plans to graduate early in Dec. of 2023. 
Story continues below advertisement
"The recruiting process for me was a learning lesson the summer of 2022," Wilgus said. "I had [gone] to many camps including Pitt, Arizona, NC state, and LSU. I had also taken a visit to the University of Oklahoma during the month of August but my visit at Arizona State University is when I knew I belonged there." 
Arizona State University has made 18 NCAA Tournament appearances and took eighth place in the Pac-12. Wilgus found out about her offer when she was on the way to the airport with mom.
"I chose ASU because I fell in love with the school most importantly, the culture, the team and the coaches," Wilgus said. "When I was in my recruiting process, a major factor that played apart in where I wanted to go was the location and culture of the school."
Approximately 7% of American high school athletes go on to play college sports, according to NSCA sports. In order to gain more attention from collegiate coaches, student athletes may create social media accounts to showcase their highlight reels.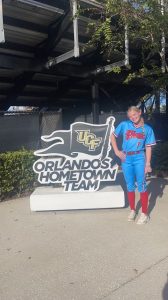 "When coaches are across the country and they want to see my skills and what I can do but they can't fly across the country then they have access to [social media] which can show them my skills," aspiring college softball athlete sophomore Eeva Chick said. "It takes up way more time than you would think time that could be spent going to football games or volleyball games or school events. My time is spent sending emails to colleges or updating social media."

Being committed to a college for a sport allows for students to plan ahead and continue their passion for their sport at a higher-level. 
"I am looking forward to [making] new friends that I'll have for the rest of my life," junior UTSA soccer commit Kacey Grahmann said. "And being able to experience what it's like being an athlete in college."