Review: Dear Evan Hansen
The third review of the year.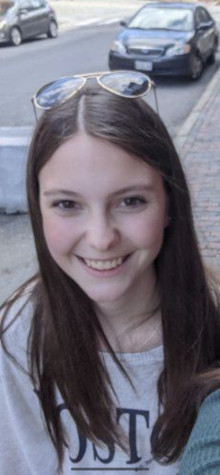 More stories from Katie Griffith
     "I wish that everything was different. I wish that I was a part of something. I wish that anything I said mattered, to anyone. I mean, let's face it: would anybody even notice if I disappeared tomorrow?"
                – Dear Evan Hansen
     Like many high schoolers with social anxiety, Evan Hansen dreads the first day of his senior year. However, Evan's life takes a drastic change when a letter (meant as an exercise from Evan's therapist) falls into the hands of the notorious Connor Murphy. Evan suddenly has everything he could only dream about, but it comes with a cost – a lie. Now walking on a wire, Evan tries to balance lie after lie and hide the truth from everyone around him, hoping, just hoping, that it doesn't all slip away. 
     "Dear Evan Hansen" went into depth while showcasing the life of someone with social anxiety. Readers can experience the effects of anxiety, and how it controls the lives of those with it. Author Val Emmich is clearly very talented at his job and captivates the audience from the very beginning, making the novel a fast and entertaining read, though sometimes Evan was hard to like. 
     On the topic of Evan, he was extremely manipulative. There were times when I pitied Evan and gave him the benefit of the doubt, but there were still so many other times that he was selfish, purposefully did wrong things, and was just plain annoying. Honestly, I would have rather preferred the book from the point of view of one of Connor's family members rather than Evan. 
     Another thing – the conclusion came abruptly. The story feels completely incomplete, and there are so many knots that didn't come untied. For one, Evan never truly got a consequence for his wrongdoings. Sure, he lost some friends, but that was it. Shouldn't he have at least been slightly punished for all his manipulation, at the very least someone yell at him? Secondly, nothing ever changed between Evan and his dad. Reading the story, the audience learns that Evan has daddy issues, and is jealous of his soon-to-be baby brother. Unlike many stories, where Evan learns to be secure in himself, and love his new sibling, nothing was resolved. Evan's relationship with his dad never improved, and this is only one of the unresolved issues that come with Evan.
     "Dear Evan Hansen" was written by Val Emmich, an American writer, singer-songwriter and actor. He has had roles on HBO's Vinyl, NBC's 30 Rock, Showtime's The Big C, and ABC's Ugly Betty. Apart from acting, Emmich has also written the adult novel "The Reminders." Steven Levenson, Benj Pasek and Justin Paul are also credited as authors of "Dear Evan Hansen." Levenson, an American playwright and television author, wrote the Play aspect of Dear Evan Hansen, and was even awarded the 2017 Tony Award for Best Book of a Musical. Pasek and Paul are attributed as songwriters. 
     "Dear Evan Hansen" can be bought at any carrying bookstore such as Barnes and Nobles or Best Buy. It can also be found on Amazon, Audible and Kindle Store. Prices range $12 – $16 for paperback or hardcover, and $11.99 at Kindle. 
     This book is 5/10 stars. There were a lot of loose ends that the conclusion never tied up, and left the book feeling incomplete. On top of that, Evan seemed to have no consequence whatsoever despite having done something terrible and wrong. It seemed that the lesson coming out of the story was that it's okay to lie and be manipulative – you'll be forgiven without consequence. However, this book is extremely well written (kudos to the author), and it keeps readers interested even with the bad character and storyline.
Leave a Comment