Sounds of the Season
Choir performed their Christmas Concert, the first formal concert of the school year.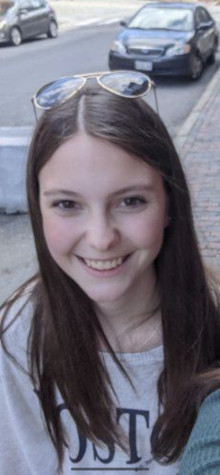 More stories from Katie Griffith
     Silence fills the auditorium. It's the first sign of change – something is about to begin. From behind the curtains, students walk in a line, carrying candles that cast a glow in the dim room. They stand center stage all together, and then, unified, they begin to sing. Harmony takes the place of the silence.
     The Raider choir presented their Christmas Concert titled "Sounds of the Season" last Thursday. It was directed by Head Choir Director Julie Rhodes and assistant Choir Director Jenna Quiroz.
     "The Christmas music is some of my favorite to do," Rhodes said. "The thing that's so much fun about the Christmas concert is it's the first formal concert of the year, and it's the first special concert, so to speak. I think it's an audience favorite as well."
     Along with the choir, the concert also included an oboist and two percussionists who performed the music to certain songs that required an instrumentalist. Accompanist Linda Angaska played the piano during songs and in breaks when the choir was backstage getting ready.
     "I honestly don't get nervous," junior Celine Kim said. "I'm really happy that I'm getting to perform and sing in front of people, and that I'm able to do it with my friends. If I really like the song, I feel like I'm more in the moment. I'm not seeing the audience, I'm feeling the song."
     The coronavirus put a stop to any planned concerts during the school year of 2020, so this was the chance for the choir to make their comeback. Besides the optional wearing of masks, nothing otherwise had changed in how concerts were performed. 
     "I feel like we needed another week," Rhodes said. "We were feeling a little anxious and excited at the same time about getting together for another live concert again. It had been two years since we had done a big, formal concert, so I felt that going in we could've used a little more time to just fine tune things, but at the same time we were excited to be together and sing because we know that it could be taken away at any time."
     Choir concerts allow for the students to showcase what they have learned from the year so far. However, unlike during the school days, all choirs sing the same music together rather than in their own separate groups, such as Varsity Choir or JV choirs.
     "My favorite part of this concert is that we get to combine choirs," Quiroz said. "A lot of times, choirs are just rehearsing during their periods for the whole semester until we bring them all together on stage and they're all singing the same music. It amplifies everyone's musicianship when they're able to sing in a large choir like that. It just feels different having everyone on stage at once. We don't get to do that very often, just at our concerts, so it's a very special moment." 
     The first step into creating a choir concert is choosing the music which takes many hours to pick. Choir directors look for a variety of different songs to include in their concerts, such as with a different culture, language or style of music. Directors also look for songs that are upbeat, slow or have certain elements that they want to teach their students. 
     "We did a lot of fun songs like the song Sleigh Ride," Kim said. "We actually did a lot of different kinds of music, like Spanish music, and deeper, prettier music and then there was really fun music that we did too. I felt like anyone of every age was able to come and enjoy at least one song."
     The next step is sequencing, placing solfege in the music, and building rhythm. Solfege is the musical alphabet. All the notes have to be down for a chosen song before any words can be added. 
     "It builds on each other," Rhodes said. "Every little step builds on each other."
      Once students start getting better at a song, the next phase is memorization. This is when the choir starts practicing on the stage and the encompanists and band students are brought on.
      "We start off the year with a significantly less amount of music," Quiroz said. "We give them two songs to learn for the first concert. This time we loaded them with more so they can build their stamina, and get their brains used to working on having to memorize different types of music and different levels of difficulty before moving onto next year."
     There are four mandatory concerts that choir students are required to participate in throughout the year. Besides concerts, there are competitions choir kids can compete in.
     "I think the best part about choir is that we get to all, together as a school and class, we're able to enjoy what we're doing and be able to do what we wanted to do," Kim said. "Most of the people who join choir are not just joining for a choir, but because they actually want to be here. It's just really fun."
     Choir is a place where any kid who wants to learn how to sing can join. According to Quiroz, it's a place where different students with many interests can come together unified in a common denominator.
     "I'm very grateful that there are people from all walks of life and all interests all over the school, and the fact that they can all come together and put something like this together and make music is awesome," Quiroz said. "I'm not very good at articulating but it's just really special." 
     For anyone who is interested in joining, the class is still open to take.
     "We have so many students from so many areas of the school and it's just super great to have all of us come together to put on a concert like we did last night and all have the same goal," Rhodes said. "We started with learning and knowing nothing, and we came to the end with something beautiful and fun."
Leave a Comment