A Fall Show Investigation
The Government Inspector closes as the first theater show this year.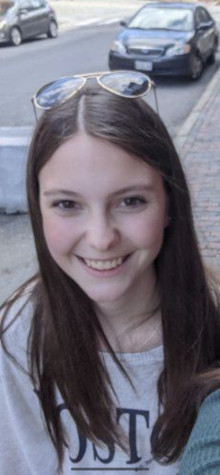 More stories from Katie Griffith
     The curtains open and the spotlight hits center stage. Backdrops help to dress the stage, costumes are fitted perfectly to both the actors and the intended time of the play, and the props compliment the characters as the story is told. Everything is set to perfection. The lights dim and the show begins. 
     The theater department kicked off their performances this year with "The Government Inspector." It was directed by Head Theater Director, and new to Rouse teacher, Cheryll Painter.
     "Coming into this year, it was fun because I didn't know the students at Rouse yet," Painter said. "I knew I needed to find a show that would be fun to work on, have opportunities for a lot of students and a lot of different ranges of character types and styles and things like that. The Government Inspector is a really fun show that has tons of different really interesting characters that all have stand out roles, but they work together as an ensemble to create one really great play. That's what I wanted to do. It was really fun and funny, and it had a great surprise at the end, and that was what I was looking for."
     "The Government Inspector" is set in a small Russian town full of corrupt officials, who all get into a panic when they hear news that an incognito government inspector will soon be ar
riving in town. The drama only continues when the town tries to find out who the inspector is. 
     "I was very proud of the show," Painter said. "I was very, very excited on opening night for the cast to have an audience. Since March 2020 we really haven't had anybody in the theater community. We really haven't had an opportunity to have an audience, and have that freedom to laugh together and enjoy together and to be a part of something as a community and an audience. So, that was such a fantastic thing, and I couldn't wait for them to have their feedback."
     To create the ideal show there must first be the actors and actresses that become the characters an audience grows to love. Casting is an important part of each play that the directors must complete before any form of practice can begin.
     "When you're directing a show, you see it in your mind, and then you're trying to find people who you think can be the character you're trying to find in your mind," Painter said. "So, as you're watching it, you can go, 'wow, that person's really great,' but they may not fit in particular places. It's kind of like doing a puzzle, a 1000 piece puzzle, as you're in casting."
     Crew behind-the-scenes also work to make sure the show runs smoothly. The crew, also known as tech, is in charge of moving props and backdrops on and off stage, working the lights and sounds system, and creating the costumes, makeup and set-up of the play. The tech was run by Technical Director Mel Edwards.
     "It was super organized- all the tech students in this program are amazing, hardworking and very, very talented," Painter said. "It was a well-oiled machine. The actors knew exactly what to do and how to interact with tech backstage, there was a whole process to everything, and it worked very well."
     Feedback to a cast in theater allows the cast and crew to better evaluate their performance, and know which areas need the best improvement. For example, when an audience laughs, claps or cheers, the cast knows they are doing well. According to Painter, the cast was excited to have the feedback from the audience, and loved putting on the performance. 
     "It's always a happy and sad moment to close a show," Painter said. "It's always a happy moment because we know we were successful and we did a great job, but it's also a sad moment to see that play, and all the characters we've grown to love, kind of go away. In the theater world we always move on to the next one pretty quickly."
     Although it is her first year at Rouse, Painter is not new to theater. She spent 18 years as the Head Theater Director at Pflugerville High School, and then two more years at different schools before that.
     "I always wanted to be a teacher," Painter said. "Growing up, I thought teachers were superheroes. They opened new worlds to me, and they help you find your strengths, help you find your confidence. I thought 'Man, I want to do that for people. I want to help them find that confidence and find that power within themselves,' so I always wanted to teach." 
     There are more shows in the Theater department to come. Besides the Fall Show, there are three other big ones, including the musical, the One Act play and the Senior Directeds. Along with the big shows, there will also be four to six smaller productions and even more class plays. Painter hopes that the Fall show has helped to grow the performers and program and prepare them for the rest of the year to come.
     "I think it was a great start to our season this year," Painter said. "It has built strengths in performers, it's built confidence in crew, it's built us as an ensemble. Moving forward that only continues to strengthen throughout the year."
Leave a Comment