Review: They Wish They Were Us
The first book review of the season.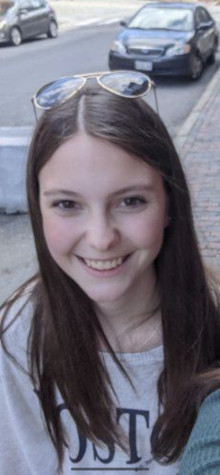 More stories from Katie Griffith
  "They say only the good die young, but that's just a line in a stupid song we used to sing. It isn't real. It isn't true. I know that because Shaila Arnold was so many things-brilliant and funny, confident and wild. But honestly? She wasn't all that good."
     – Prologue of "They Wish They Were Us"
     Set on the Gold Coast of Long Island, New York, the unexpected happens when Jill Newman's seemingly perfect best friend, Shaila Arnold, is murdered her freshman year. Shaila's boyfriend, Graham Collaway, confessed to the murder and the case was closed. Three years later, it is now Jill's senior year as a Player- the school's "secret" elite group of students who hold the admiration of all their fellow peers, and her whole future is planned out. All seems well until Graham begins to claim innocence, shaking up Jill and her fellow player's entire world. Jill seeks to find out the truth of Shaila's murder, while trying to survive her senior year, and along the way learning how deep the Player's secrets really go and what it's truly worth to keep them.
     "They Wish They Were Us" is written by author and Cosmopolitan Magazine Op-ed editor, Jessica Goodman. Although it was her first book, it quickly became a New York Times bestseller, and rose to popularity. Since then, Goodman has written "They'll Never Catch Us" (published in 2021) and "The Counselors" (coming out in 2022).
     Goodman does a very good job of engaging the reader into the story from the very beginning. (It was extremely hard for me to put down this book.) The author only gives little pieces of information at a time through Jill's (the narrator) flashbacks. I really enjoyed reading these flashbacks as it gave an insight into what it was like before Shaila died, more of Shaila's dazzling personality, and why Jill is where she is today. However, the flashbacks could be a little confusing as it was hard to tell where they stopped in the chapter and where the present time started again. 
     Jill also goes through a lot of character development in the storyline. She starts out as a little snobby and selfish, however as the story progresses she learns to have more integrity and overcome her fears through a fierce determination.
     Although there were some strong areas in this book, there were also quite a few weak ones. For example, the ending was not really all that surprising. Meaning: I guessed who the killer would be in the first couple of chapters. Everyone knows that in a good mystery the killer is the person you least expect, but is it really? Maybe it was easy to guess who the killer was because most of the novel isn't even about the mystery itself. "They Wish They Were Us" tended to focus on the players and their drama rather than investigating the death and finding the killer. Half the time, I forgot I was reading a mystery and thought I was watching a remake of "Gossip Girl."
     Another thing- a lot of the characters were really hard to like. While Jill goes through a lot of character development, the other players and characters were completely skipped over. Some characters even became just plain annoying. However, there is still something really enjoyable about this book, and I still definitely recommend reading it.
     "They Wish They Were Us" is written for high school students (A.K.A any Rouse Raider who enjoys a good mystery book) and it can be found online through Amazon, any online bookstore, or through any carrying bookstore, such as Barnes & Nobles and Target. It is also available in Audible, Kindle Store, audiobooks.com and Google Play books. Depending on where the novel is bought, and if hardback or paperback, the price ranges from $9 – $12. 
     This book is 6.5/10 stars. Because of it's somewhat predictable storyline, every "shocking reveal" was a little less dramatic than it could've been. There was also some language and scenes that made me just a little bit uncomfortable, but they don't go into too much detail. All in all though, it was still an entertaining read and the book definitely captures you right away.
View Comments (1)