Band vs COVID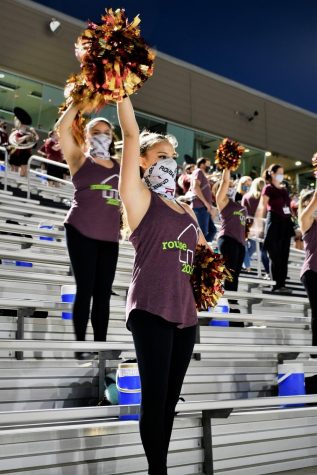 COVID-19 has changed everything in the highschool setting. For the students in band, their main focus during the fall is the marching show of the year. 
     "Rehearsal this year has been strange," sophomore Alyssa Woodworth said. "The first part of the year was mainly virtual but now that we are back in person everyone is split into small groups and everyone has to wear a mask."
     Band rehearsal used to be about having fun as a team, due to COVID-19 the ways of having fun have changed. Woodworth used to be able to run and hug her teammates when their show was over, now she gets to look across the field and smile. 
      "The fact that I wasn't able to be completely involved with my team has affected my mood during my rehearsals," Woodworth said. "Practicing alone is hard. Guard is about teamwork and not being able to get hand on help has made everything harder."
The new head director Ryan Johnstone has continued to grow the band program by making sure the protocols are being followed, by planning out how a new rehearsal schedule and when everyone is together making sure they keep masks on and monitoring the students spacing. 
     "We've been putting thin cloth covers "instrument masks" over the bells of all the instruments to ensure that our air isn't getting to others," junior Andres Suarez said. "Each section spreads out on the field, once attendance is taken the sections go one by one to a block to start rehearsal." 
Although competitions have been canceled,the band is still able to perform at football games. 
     "It's been hard but we have to believe in the best," Suarez said. "We all love our team and we know we can make the best out of any situation."