Dive into Spring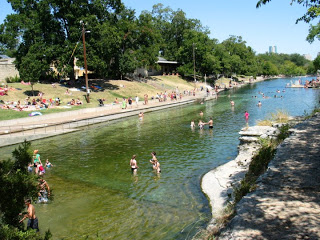 Maddie Barker, Staffer
March 14, 2019
Hang on for a minute...we're trying to find some more stories you might like.
       With the warmer weather approaching, water is a great way to stay cool through this Texas heat. Here is a list of great, spring break-worthy, instagrammable places to visit on your week off.
Jacob's Well, Wimberley, TX
Known as one of the best places to swim, this 30-foot-deep spring is very popular amongst divers because of its clear water, surrounded by beautiful rocks.
Blue Lagoon, Huntsville, TX
This lake is perfect for people looking for beautiful water to swim or snorkel in. It is surrounded by pine trees and receives waters from the springs. It's also a great place to learn about diving, as it gives people a great experience where they can learn with the safety of clear water.
South Padre Island
Up for a road trip? This beach is very popular amongst spring breakers, so if you're looking for peace and quiet, beware. The island has 35 miles of beautiful sandy beaches perfect for fishing, swimming and partying. If you love sea life, there are plenty of turtles and dolphins that come near the shore.
Lake Travis, Lago Vista, TX
Spanning more than 60 miles long throughout the picturesque Texas Hill Country. It is very popular for watersports, offering places to rent kayaks, canoes and paddle boards. Its close proximity to downtown Austin attracts the city-dwellers to enjoy the beautiful water.
Corpus Christi
Filled with tourist attractions all along the Gulf Coast, this city attracts all types of people. From windsurfing, kiteboarding and kayaking, thrill-seekers come here to get their taste of adventure from the watersports offered.
Barton Springs Pool, Austin, TX
This populated pool is perfect for a relaxing day in the sun. Last year alone, more than half a million people visited Barton Springs. It's important to watch for parking, as it fills up pretty quickly. Want a cool way to dry off? Take a hike at the Barton Creek Greenbelt.
Hamilton Pool, Austin, TX
Not too far from Pedernales Falls, Hamilton Creek is a beautiful Texas landmark. Fifty feet of water fills a natural sinkhole underneath a beautiful circular cliff. The waters sometimes appear to be aquamarine, drawing people to admire them.