Two wrestlers place at state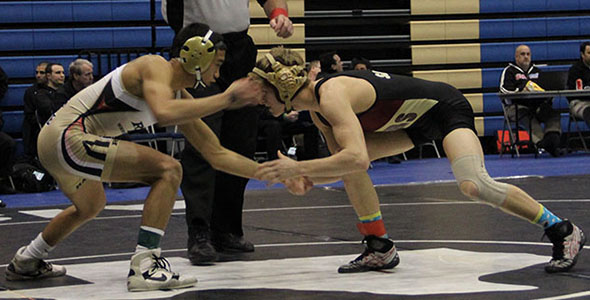 Two wrestlers placed at the state wrestling tournament, Saturday, Feb. 23 at the Delco Center. Sophomore Elise Coleman finished third in the girls 102 weight class and junior Jemmuel Lacanaria placed fourth in the boys 113 weight class.
"When I was on the podium it didn't seem real," Coleman said. "I was still in shock."
After ending reg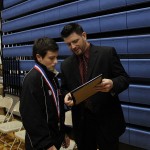 ulation tied, Coleman won her final match 4-2 against El Paso Irvin's Valerie Reyes in the extra period.
"I was really nervous before the match," Coleman said. "I had no idea how the match was going to go. I knew nothing about her and didn't know what to expect."
Lacanaria faced Saginaw's Beric Bassinger in his championship match, but was pinned in the first period to finish fourth.
"I felt pretty good on the podium," Lacanaria said. "But also kind of sad because I felt I could've been higher."
Lacanaria won his first match of the tournament Thursday, Feb. 21 by pinning his opponent in the first period, but then fell into the consolation bracket after losing his second match. On Friday, he won his third match over Frisco's Jonathan Sartone 6-0 and later in the day won his fourth match over Dumas' Omar Duran to guarantee a spot in the third place match.
"I gave it my all," Lacanaria said. "It means everything to me to even be here today and I never could've done it alone, everyone helped me. Every guy in the weight room pushed me to be better and helped me get here."
Alongside Lacanaria and Coleman, five other wrestlers competed at state. Juniors Micah Schonfeld and Jesse O'Rourke went 2-2 in the 126 and 182 weight classes, missing advancing to the top six by one match. Schonfeld pinned both opponents he beat while O'Rourke in his third match beat Moody's Robert Pierce who he lost to at regionals.
"It's new for everybody so we're all kind of nervous," O'Rourke said. "We're doing pretty good for our first time; it's something to be proud of."
This is the first time in school history for wrestling to make it to state and for head wrestling coach Brad Bresnehen it was the first time to actually feel nervous.
"Words cannot describe," Bresnehen said. "I'm very pleased; they wrestled well and represented Rouse wrestling with class and character."