Seven wrestlers advance to state meet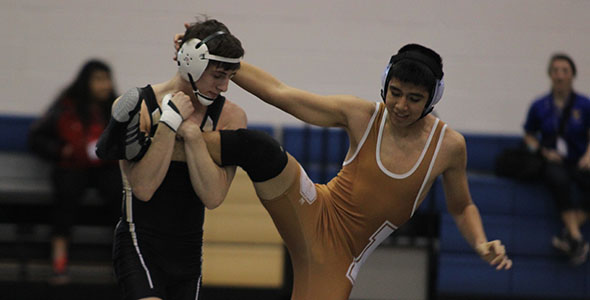 Seven varsity wrestlers will advance to the state meet after earning their spot by placing in the top four of their weight class at regionals, Feb. 8-9. This is the first time in school history wrestlers have qualified for state.
"I've dreamt about going to state since I was a freshman," said junior Micah Schonfeld, who took second in the 120 weight class. "[I've] always wanted to go, never had enough experience and now that I do I feel really accomplished that I've made it."
The wrestlers will compete at the state meet, Feb. 21-22 at the Delco Center.
Four other boys will join Schonfeld at the state meet. Juniors Jemmuel Lacanaria and Drew Mioton took third in the 113 and 138 weight classes respectively, junior Evan Coleman was second at 152 and Jesse O'Rourke finished fourth in the 182 weight class.
"I feel very accomplished on my season, [it's] not over yet, but I think I'm close to meeting my expectations," Mioton said. "[It] still hasn't hit me yet that I'm going to state, but it's exciting for the team as a whole because they helped me get here, all the guys that aren't here. All the two and a half years are put together into one tournament at state."
Both girls on the team also advanced to state. After dropping into the consolation bracket, senior Nakiah Richardson had to face a LBJ wrestler who had pinned her twice before.
"I was really nervous, but I just kept saying in my head 'With God all things are possible' and I just kept saying 'I can do it, I can do it,' " Richardson said. "I just had to keep my head up and I did it. I am so excited all of these four years of training have paid off."
Richardson won the match 6-2 and would end up winning her final match to finish third in the 110 weight class. Sophomore Elise Coleman, who is the youngest team member advancing to state and the sister of Evan Coleman, was the first wrestler of the day to qualify and took second in the 102 weight class.
"State was my overall goal and I accomplished that," Coleman said. "I'm excited that KeKe [Richardson] and my brother are going with me, it means a lot to have support like that."
Click here for a KXAN story about Evan and Elise Coleman advancing to state.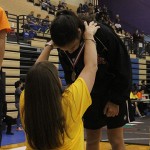 REGIONAL RESULTS
Varsity Boys
106 – Sal Reale, 5th
113 – Jemmuel Lacanaria, 3rd
120 – Micah Schonfeld, 2nd
138 – Drew Mioton, 3rd
152 – Evan Coleman, 2nd
182 – Jesse O'Rourke, 4th
Varsity Girls
102 – Elise Coleman, 2nd
110 – Nakiah Richardson, 3rd