12 wrestlers place at district, 9 headed to regionals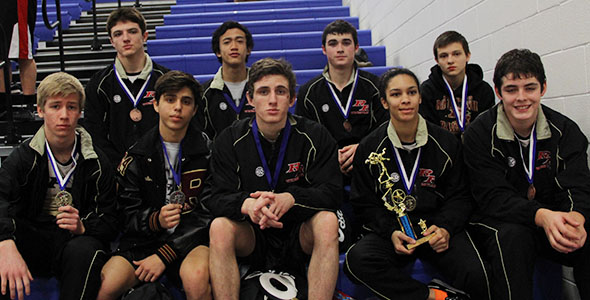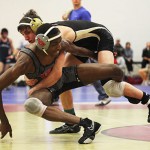 Twelve wrestlers placed at the district meet Saturday with nine qualifying for regionals.
"We don't really have any seniors this year so the juniors had to step up," junior Micah Schonfeld said. "It's really pushed us to be our best and to lead the team."
The district tournament was Saturday, Feb. 2 at Georgetown High School. For the varsity girls, sophomore Elise Coleman took first in the 102 weight class, wrestling unopposed. Senior Nakiah Richardson wrestled against one opponent whom she had faced before. She pinned her in the first period to win the district championship in the 110 weight class.
"It was my only match, but I pinned her faster than last time. Last time I didn't pin her until the third period so I think I did better," Richardson said. "I'm excited for regionals and ready to win state."
For the varsity boys, 10 of the 13 wrestlers placed, including four wrestlers advancing to the championship match in their weight class. Juniors Sal Reale, Jemmuel Lacanaria and Drew Mioton finished second in the 106, 113 and 138 weight classes, respectively.
Schonfeld also advanced to the championship match, after a tough semifinal match where he escaped being pinned and came back to win in an extra period.
"I didn't go into the first match prepared, I had beaten the kid and pinned him before, but when I wrestled him my head wasn't in the game," Schonfeld said. "Then finally when I was losing 9 to 6, I decided I would try so I got a take down and an escape and then I got a take down again and I beat him."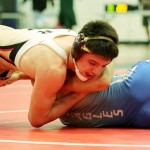 Six more wrestlers placed with juniors Evan Coleman and Jesse O'Rourke winning their final matches to take third in the 152 and 182 weight classes while sophomore Hunter Tranchina was fourth at 170. Wrestlers who finished first through fourth qualified for regionals.
Senior Seth Catchpool and sophomore Chris Hoad both pinned their opponents in their final matches to take fifth in the 132 and 195 weight classes. In the heavyweight division, sophomore Jake Moser finished  sixth. Overall, the team finished fourth in the district tournament with 140 points total, two points out of third place.
"I feel like the tournament went very well. I thought we wrestled very well, I'm happy with the results," coach Brad Bresnehen said. "I'm very excited for regionals, excited for the kids. They have come a long way since first-year freshmen."
VARSITY DISTRICT RESULTS
Varsity Boys
106 – Sal Reale, 2nd
113 – Jemmuel Lacanaria, 2nd
120 – Micah Schonfeld, 1st
132 – Seth Catchpool, 5th
138 – Drew Mioton, 2nd
152 – Evan Coleman, 3rd
170 – Hunter Tranchina, 4th
182 – Jesse O'Rourke, 3rd
195 – Chris Hoad, 5th
Heavyweight – Jake Moser, 6th
 
Varsity Girls
102 – Elise Coleman, 1st
110 – Nakiah Richardson, 1st