Three wrestlers win weight classes at Cedar Park, third meet in row with top three finishes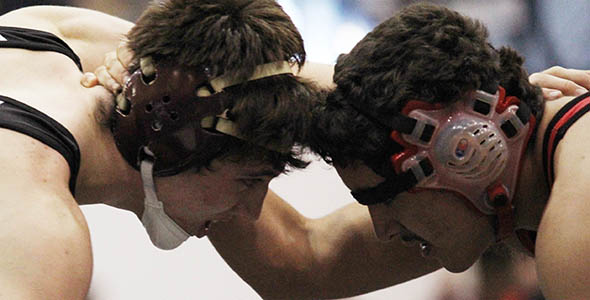 The varsity wrestling team competed at the Cedar Park Invitational Jan. 19 and brought home three first place finishes. Juniors Micah Schonfeld, Drew Mioton and Evan Coleman all won their weight classes at 120, 138 and 152, respectively.
"We don't have any male seniors so it has really forced the juniors to step up and be the example," Schonfeld said. "We try hard to be a good example and do our best."
This was the second tournament this January the team has had success at. At the 62-team Centex meet, Jan. 12 at the Delco Center, the team had several wrestlers make semifinals and three advance to finals. Schonfeld took second in the 120 lb weight class while Coleman won the 152 and his sister Elise Coleman finished second in the 102 lb weight class. 
During the Christmas break, the team traveled to Coppell, Dec. 22 where they went in unranked, but emerged with five third place finishes.
"There was a lot of a state qualifiers at that meet," senior Nakiah Richardson said. "It was really good competition and that's good for us to for up against."
Junior Jemmuel Lacanaria took third in the 113 lb weight class, while Schonfeld, Mioton and Coleman each took third in the 120, 138 and 152 weight classes. In the girls' division, Elise Coleman finished third at 102.
"That was a huge meet in Dallas and it was really intimidating," Lacanaria said. "So it was fun to travel and to have competition like that."
The team hopes to continue their success as they move on to compete in their final home dual at 7 p.m. Thursday, Jan. 24. The varsity will travel to Houston next weekend for their final meet before heading to district Feb. 2 at Georgetown.
"People know who we are now, their intimidated," Schonfeld said. "Even teams in Dallas and Houston knew who we were and that's an awesome change."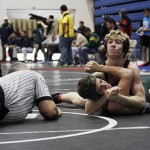 RECENT RESULTS
Cedar Park Invitational, Jan. 19
Cedar Park High School
4th – Jemmuel Lacanaria 4th at 113
1st – Micah Schonfeld 1st at 120
1st  – Drew Mioton 1st at 138
1st –  Evan Coleman 1st at 152
4th –  Jesse O'Rourke  4th at 182
 
Centex Meet, Jan. 12
Delco Center
 2nd – Micah Schonfeld, 120
1st – Evan Coleman, 152
 
Girls
2nd – Elise Coleman, 102
 
 
Santa Slam, Dec. 22
Coppell High School
3rd  – Jemmuel Lacanaria, 113
3rd  – Micah Schonfeld, 120
3rd  – Drew Mioton, 138
3rd  – Evan Coleman, 152
 
Girls
3rd –  Elise Coleman, 102