Junior competing Friday in second state meet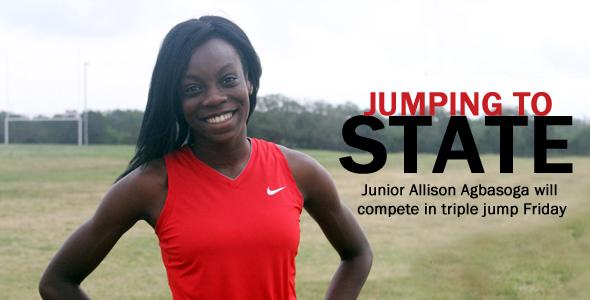 First at district.
Second at regionals.
And state bound.
 Junior Allison Agbasoga will compete in the triple jump at her second state meet in a row this Friday at The University of Texas. All events will be broadcast live online at www.flotrack.com  for everyone to see. Agbasoga's event will be broadcast at 4:30 p.m.
At regionals, Agbasoga jumped 37 feet, 6 inches; her goal for state is 39 feet although coach Kelly Thompson is hoping for her to jump 40 feet.
 "I think she is a great competitor that will be jumping this year with the experience and knowledge of jumping there last year," Thompson said. "It really helps to know what to expect of the meet. She enters competitions with the expectation of doing her best and knowing that if she does that, she gives herself a chance to win."
The junior hopes last year's experience will help her be prepared for this year's competition.
"Last year I sprained my ankle before the event and got ninth," Agbasoga said. "So I'm hoping to stay calm, get a personal record and end this year with a bang."
Agbasoga  and eight girls will compete in prelims, with their jumps deciding the order for finals.
"I think the Houston girls are going to be my biggest competition," Agbasoga said. "They tend to jump around 42 feet."
The competition isn't the only thing that's changing from regionals to state.
"At state you have to narrow down your flaws, making sure everything is set to go," Agbasoga said. "You have to be flawless.