Five athletes advance to state track meet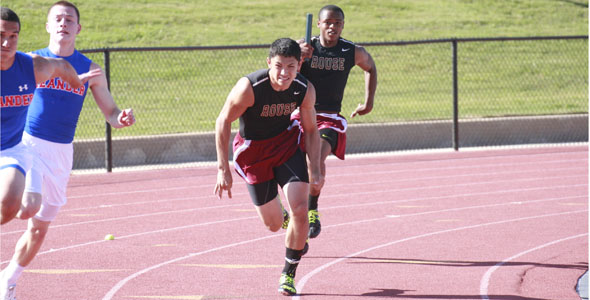 Thirty varsity athletes placed at the district meet April 11-12 with 10 advancing to regionals.
Junior Allison Agbasoga led the varsity girls, winning the district championship in the triple jump and taking second in the 100 meter dash.
"I think all of our time and hard work since August definitely paid off," Agbasoga said. "We worked hard to make it through finals and we knew it wasn't going to be handed to us."
Senior Nicole Kastens also placed, taking fourth in the 1600 meter run and the 3200 meter run.
"I had an off day," Kastens said. "But the team worked hard and did really well."
Sophomore Michael Denmon led the varsity boys winning the 400 meter dash and finishing second in the 200 meter dash.
"I have the fastest time right now but the others are very close right now," Denmon said. "I just have to work hard, stay disciplined and listen to coach."
Both the girls 400 meter and 1600 meter relays took second place and advanced to regionals.
"I think we all did well, we just have to not let the competition get to our heads," junior Marielle Plunk said. "I'm just excited to beat the girls that beat me at district."
The boys 800 meter relay placed third and qualified for regionals.
"Districts were a blessing from God," junior Chris Hendricks said. "Because we were in fifth and Demetrius [Hood] brought us back by getting us into third so we could go to regionals. It was an adrenaline rush."
More than two weeks after district, the team competed at regional meet at Alamo Stadium in San Antonio, April 27-28.
Five people advanced to  the state meet, including the girls 1600 relay team, comprised of Agbasoga, juniors Marissa Naab and Marielle Plunk and freshman Natalie Tedesco, which took second. Agbasoga also advanced in the triple jump, after taking second place.
In the boys races, Denmon won the 400 meter dash in 49.99 seconds and will also compete at the state meet.
"Regionals went very good. I think I will do well at state because I've practiced and I deserve it," Denmon said. "I think I will make the coaches proud and I know that they know I can."
The state meet is May 11-12 at The University of Texas.