Hockey star hopes to play for NHL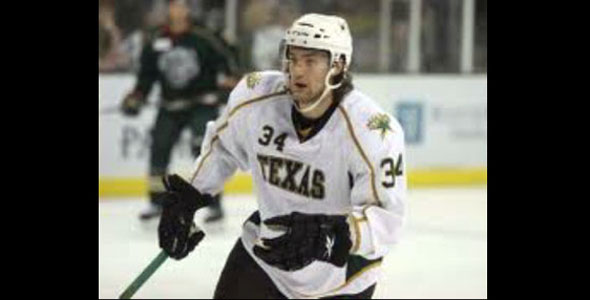 Austin Skender, Journalism 1 Student
April 12, 2012
Hang on for a minute...we're trying to find some more stories you might like.
Playing hockey, up to 15 times a month, up to six months a year and playing whether you feel good or not, is very hard on the health of most people. But Texas Stars hockey player Luke Gazdic is always up and back on the ice, every time, playing through any injury.
Gazdic is on the Texas Stars, and American Hockey League team which plays at the Cedar Park Center. He is 22 old and is No. 34 on the team. The season began in October and runs through mid-April.
"It's hard, these games are hard on your body, and you travel a lot. You're playing through your injuries and you're playing when you're sick and when you're tired and you always have to go out there and play in front of 5,000 people and perform," Gazdic said. "So I would say it's the wear-and-tear of having to play no matter what."
Gazdic has to sacrifice many things in order to be a good hockey player, like having a vacation, being able to spend time with his friends and family.
"I don't have a private life, we're always on the road all the time so I really don't have time to do much or get into much trouble. I really just try to keep in touch with my friends and my family," Gazdic said. "That's pretty much my life, but it's hard because we're always traveling and we're always moving and really there isn't much free time."
But hockey has its benefits for Gazdic, he gets to do things that most people don't get to do in their life.
"We walked in here and there's 20 people here that want my autograph, and I think that it is just weird, still, that there are 5,000 people out there watching you play every night," Gazdic said. "You get to travel around the country, go to New York, and Chicago, and get to see different places, and it's fun. I was doing it before just cause I like Hockey, and now I get paid to do it."
But during the off season, Gazdic has to train a lot in order to prepare and get ready for the next season of hockey.
"I skate a lot, a lot of power skating, I work on my stride, and then we are in the gym every day. About six days a week, working on my feet, getting my legs strong and my arms strong," Gazdic said. "It is a year round job for sure. We do get two or three weeks off at the end of the season and then it's right back into the gym and on the ice training for the next season."
Gazdic has ambitions to join the NHL someday.
 "I would say for long term goal I want to play in the NHL," Gazdic said. "I have a contract with Dallas and I would love to get called up, but I know I am still young, I still have to keep working, but eventually I would love to play in the NHL, that has been my goal for a long time."
The Texas Stars will play their last home game April 14 at 7 p.m. at the Cedar Park Center against the Oklahoma City Barons.