Boys basketball makes history with playoff win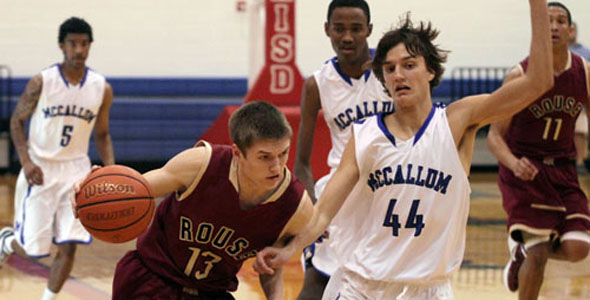 Stephanie Hofmann, Assistant Editor in Chief
March 8, 2012
Hang on for a minute...we're trying to find some more stories you might like.
The boys basketball team made school history as the first team sport to advance to the playoffs. The team defeated McCallum in double overtime in the first round.
"It was an awesome game, [our] first playoff game, first playoff win," head coach Shane Krause said. "There's going to be a lot of playoff games at Rouse but only one first."
The team finished second in district, losing only three games.
"It felt pretty good and it was the first time we did that," junior Timothy Lapaglia. "In the beginning of the year, we knew we would be first or second. We thought we would get first, but we didn't play as good as we could of."
In the first round of playoffs, the team led by six at halftime, 28-22. But the lead dwindled in the fourth, and the Knights pulled ahead 45-42 with less than a minute left. Senior Matt Martinez hit a three-pointer to send the game into overtime.
"That shot that Matt made was just an incredible shot, a clutch shot from a clutch player," Krause said.
The teams would trade baskets and Martinez hit one of two free throws to send the game into a second overtime. A Johnny Bush three-pointer and free throws would help the Raiders seal a 57-51 win.
"We played as hard as we good," Bush said. "We didn't want to lose in the first round, we've worked four years. We felt that would be a disappointment."
The team then traveled to San Marcos to play Brennan in the second round. The Raiders were nine points down at halftime and lost 67-58 to end their season.
"It was a good game and we played hard," Bush said. "It just didn't go the way we wanted. A few mistakes cost it."
With six seniors leaving this year, the team will count on their returning players and new members to continue the playoff tradition.
"[We want] to continue to build on what we started this year," Krause said. "I think we can be as good or even better, but it's going to take a lot of hard work, more work than ever."