Living on the wild side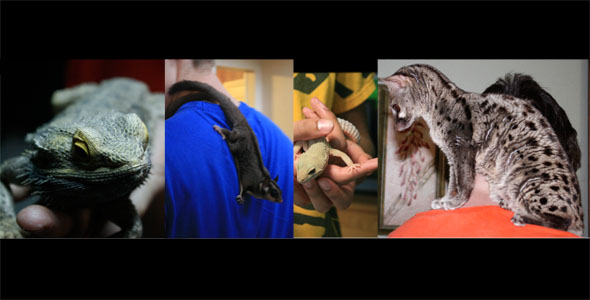 Clutching a dark green piece of fabric in his hands, he gingerly unzips the small pouch. A small, head pops out, its black eyes and pink nose staring at the outside world. Then a second furry creature emerges, his ears standing at attention. Junior Andrew Williams coaxes them out into the light, the two sugar gliders scurrying across his shoulders and back, their claws making small marks on the back of his neck.
While cats and dogs tend to be the pet of choice, there are a handful of students who have unusual animals at home.
Junior Andrew Williams got his fuzzy friends when his mom decided sugar gliders would be advantageous for her business.
"They're so awesome, I'm glad she chose them even though it's a lot of work," Williams said.
Williams' sugar gliders are from Australia and requires special feedings every Monday, Wednesday and Friday. In order to get the proper proteins he has to feed them bread and have a constant supply of apples or water ready.
"They're a lot like gremlins," Williams said. "You have to follow all the rules to keep them healthy. Don't get them wet and don't feed them after midnight."
Sophomore Hayden Gower also has an unusual pet. For his 13th birthday, Gower's mom bought him a genet, which resembles an elongated cat or ferret.
"It's a lot like a cat," Gower said. "It just has a weird diet and likes to play in my hair."
Gower has to feed his genet, Maximus, a mixture of cat food, dog food, fruits and beans.  Aside from his diet difference, Maximus is also very energetic and can jump as high as 12 feet in the air.
Though it has the general features of a house cat, Aaron Sturk's bengal cat is larger, has blue eyes and an extremely large tail.
"Not even Puss in Boots could stand up against Leopold's stare," Sturk said. "He looks a lot like a mini snow leopard."
Sturk's family chose Leopold because he is hypoallergenic and his family is allergic to normal cats.
"My dad and I are allergic to cats," Sturk said. "But our family has wanted one for a long time, so we found Leopold."
Allergies led junior Kaylee Colon to getting a pig as her household pet.
"I was so excited to find out that there was a pet my family could have," Colon said. "I didn't know that pigs were hypoallergenic before."
Colon's pig, Hank, is completely house broken and has been since they got him at five weeks old. He knocks on the door with his nose when he needs to relieve himself, and if they leave town he is trained to use a litter box.
"He's so funny, he thinks he's a dog," Colon said. "He barks at other dogs."
Hank lives on a diet of pig food from Tractor Supply stores and treats Colon sneaks him during the day.
"We're trying to cut back on the amount of treats we give him because we don't want him to get unhealthy," Colon said. "But it's' so hard to resist when he begs for food. He's just too cute."
While allergies were Colon's motivation, sophomore Shae Stanford was hooked on a catchy title. He was looking for a lizard and when he saw the title "Leopard Gecko" at the pet store, he knew he had to have it.
"It's actually a lot cuter than you would think," Stanford said. "He's very reclusive so I only see him in the evenings when he comes out of his house."
The lizard may not leave his house often, but it still has to be cleaned on a regular basis. For Williams, he has to regularly clean the fabric pouch his sugar gliders live in.
"They can be a pain," Williams said. "But in the end I'm glad I have such an unusual pet, it is definitely worth the extra work."