Girls vs. Boys Basketball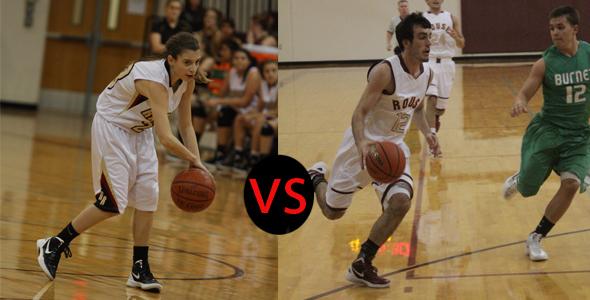 James Amell, Staffer
February 20, 2012
Hang on for a minute...we're trying to find some more stories you might like.
HEAD COACH
Lori McDonald
RECORD
13-19-1 overall, 3-8-1 District
PRE-GAME RITUALS
Before each game the team says the Lord's prayer and also sings, dances and chants.
BEST GAME
"Lake Travis, because they are the number two in the district, and we beat them at their house, and it was a big turning point for the team." –Annie Wingard
THOUGHTS ON LAST DISTRICT GAME
"I feel really good about it, I'm really excited about it, but I'm also kind of sad. I don't want the season to end because this is my last season, and I don't want it to end, it'll be hard."- Crysta Haines
HEAD COACH
Shane Krause
RECORD
25-6-0 Overall, 9-3-0 District, 2nd in district
PRE-GAME RITUALS
Before every game the team prays after a pep talk.
BEST GAME
Vandy at home, because we don't like them so we will have a big crowd. It's our last non-post season game and it's Vandegrift. –Wesley Lewis