While everyone else is in class, studying, learning about history, science, or math, students in the Vocational Adjustment Program are learning skills that will apply to the workforce. 
The recycling team walks around the school four days a week, going door to door collecting recyclable materials from teachers. 
"A lot of our kids don't have a lot of experience doing chores at home and stuff that other kids do," Vocational Teacher Robert Synder said. "So we figured it was a great opportunity for them to pick up some basic [skills] like following a set of routines, following directions, acting appropriately and being polite. All things you need to do when you're at work."
The goal of the class is to learn skills that will apply to their future jobs. The recycling program started before Snyder came to the school, and he has continued it for the past five years. It is the first on campus job the students learn before doing off campus jobs.
Story continues below advertisement
"I want to be a doctor," junior Yash Kulkarni said. "[I've learned how to work] a long time and how to behave."
Along with recycling, the students restock paper in the copy rooms, shred old documents and deliver packages to staff.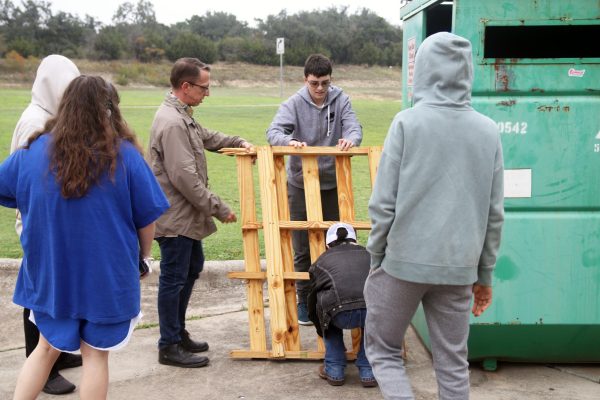 "It's a good team and good people," sophomore Leonard Chamberlin said. "I've learned a lot of organizing and learning when to suck it up because some jobs require you to commit to your job."
The team supplies recycling bins to teachers that want to participate, but Snyder estimates that less than half of the teachers actually do.
"We learn to be respectful to the people that are in classes and make sure if they do have recycling, we say thank you and have a good day," sophomore Gregory Rand  said. "I'm not the type of kid that likes to be mean to people. I don't really have a mean bone in me."
The students also get internship opportunities outside of school. This year, Rand got to go to the Science Materials Center and help prepare science projects for schools. 
"I really do have fun being in this class," Rand said. "It's exciting. I can't wait to do it next year and the year after. I would say that it has helped me be a little bit more patient."