People from all different ages, religions and ethnicities are seen chanting down the street while holding their signs up in the air. Protestors are dressed in the colors of Palestine, red, green, white and black, as some are wearing a keffiyeh (traditional headdress worn by people from parts of the Middle East). They are all united together to show their solidarity for Palestine. 
According to the Austin American-Statesman, about 10,000 people from different cities in Texas all gathered at the Texas State Capitol on Nov. 12 protesting to demand a ceasefire and to show support to the people of Gaza. The protest was organized by different pro-Palestinian organizations. 
I protested because I believe in supporting Palestine. The protest was promoted on social media, specifically through Instagram. It was my first protest that I had ever attended, and I am grateful that I went. I will never forget the speeches that were said, the chants that I heard and the posters I saw. I was able to stand up for my country and be there in the crowd among thousands of other people.
The protest began at 1 p.m. and lasted for several hours. In the first 30 minutes, there were chants, followed by guest speakers such as a local imam, Nida Guerzoni Abu-Baker, Mai Abushaaban who gave speeches on various topics about Palestine. When the speeches were finished there was an option for Muslims to pray asr (afternoon prayer time). After prayer, we walked down the streets around the Capitol chanting.
Story continues below advertisement
A few of the chants shared among protestors were, "Hey, hey, ho, ho, the occupation has got to go, from the river to the sea Palestine will be free, Gaza Gaza don't you cry Palestine will never die, Israel Israel you can't hide we charge you with genocide."
According to the Palestine Solidarity Committee in Austin, Texas gives out $298 million each year to Israel where it goes on to fund war crimes, home demolitions, settlement construction and now the ongoing onslaught of the Gaza Strip. The tax dollars that residents pay are funding this current genocide. 
There are many journalists in Gaza who are documenting their lives in real-time on different social media platforms. Some reporters are Plestia Alaqad, Hamza Wael, Hamdan Dahdouh and an independent journalist Motaz Azaiza. Many of the journalists are reporters for various news outlets. For example, Dahdouh is a journalist for Al-Jazeera. In order to keep the world aware of what's happening during the electricity shortage, many of the journalists use a generator.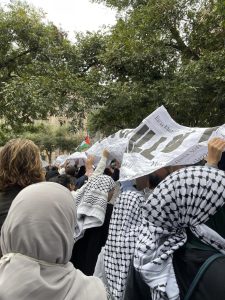 "My beautiful hometown Gaza is becoming a ghost town," Alaqad said in an Instagram caption. "Where you walk and smell death, where you look and everything around you is bombed and destroyed, where all you can hear are the sound of bombs, airstrikes, and kids crying and screaming from fear and pain."
More than 10,000 people have been killed in Gaza, almost half of whom were children. These numbers aren't just figures. They represent the lives lost, the families torn apart and the hopes and dreams that have gone.
Every single day, more Palestinians are getting killed. More than 28,000 people are injured and 47 entire families have been wiped out according to the Gaza Ministry of Health. There is no food, water or electricity. Euro-Med Monitor has estimated that 52,500 infants in Gaza are at risk of starvation, death, dehydration and other health hazards. Gaza's two main hospitals have now stopped taking on new patients due to a shortage of medicine and Israeli bombardment.
There are about 50,000 pregnant women and thousands of those women are due in the upcoming weeks. The expecting mothers' and newborns' health depends on their access to food, water and medicine according to the UN. The UN warns of health risks to pregnant women and newborns in Gaza. 
There are different ways to help Gaza. The first is knowing what's currently happening and reading news from accurate news channels such as Al-Jazeera. You can text "Gaza" to 2100 and follow the link to send an email demanding a cease-fire to the members of Congress. In support of Palestine, many are boycotting brands that allocate money to Israel such as Pizza Hut, Coca Cola, Starbucks and more. Bringing more awareness by talking about what is going on will help as well as reposting and interacting with posts on social media. 
*Editor's note: Fakheri Zayed is a student writer. All views expressed in the commentary are her own and are independent of the district, Rouse High School and the publication.