In just three months, the marching band has made history  with "Requiem." At their first competition of the season, BOA Austin, they placed first in finals, beating nationally ranked Vandegrift High School. They have set their sights high for State, previously making second place in 2021 with "Papyrus."
"That was a big moment, [winning BOA Austin]," junior soloist Renushri Yannam said. "I was so surprised because I would've been content as long as we got top six. Then they announced that we didn't get second place. We were all crying, and I just remember hugging all the other soloists after the results were announced."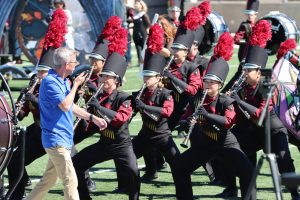 The band also won first in prelims for Class AAA, and were awarded outstanding music performance, outstanding visual performance and outstanding general effect. 
"It was very overwhelming, but cool because we now have a spotlight on us," junior drum major Sophia Summers said. "I feel like we went from nobody really knowing about us as much, to now people are like looking into our history and really knowing us."
Story continues below advertisement
In their second competition, Texas Marching Classic, the band won second place overall, with Vandegrift placing first. 
"It was really unreal because we put in so much work, but we never had that kind of expectation of ever placing that well," sophomore Maanas Gondapalli said. "I was just really proud of the work I put in and the work everyone else put in. The result really reflected that hard work. I was just happy that everything we did paid off."
Scoring high at the UIL Region contest enabled the band to move onto the Area Contest, where they scored first place overall and qualified for the UIL State competition.
"It seems like every year it's only getting better and better," junior Mason Azios said. "It's because of the expectation and hunger for improvement not just every year but every single day."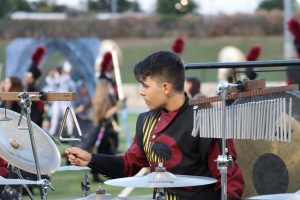 They will perform at the Alamodome on Nov. 6 and 7 for the UIL State competition. 
"We've done our whole show," sophomore Draco Raffle said. "We've got it all learned. We're just fixing things up about ourselves and about the music. We're just trying to make it the best show we possibly could."
Tonight at 7 p.m., the band will perform at BOA San Antonio, competing against 65 other high school marching bands. The competition will be held at the Alamodome today and tomorrow.