Every fall, residents of Parkside at Mayfield Ranch put up their decorations in preparation for the upcoming holidays. However, there's one street that draws more attention than the rest. Warnock Court has established itself with an indescribable charm that resonates with the entire community.
The tradition of decorating significantly has been alive for over a decade. It's a staple to everyone in and outside the neighborhood. When October begins, residents of the street waste no time preparing for Halloween night by displaying a host of extravagant and ghoulish decorations.
"There's so many memories that come from decorating," junior Max Cole said. "[I would go] up to my grandpa's attic to get all our decorations, and [set] them up with my dad. [Then, I would]  just walk down the street at night, looking at all the houses. It just brings back a lot of memories."
Story continues below advertisement
Senior Pierce Martin and his family have been decorating their home since he was in fourth grade. Gradually, other homeowners caught on and turned the cul-de-sac into a popular spot for trick-or-treaters.
"Half of that street wasn't there when I f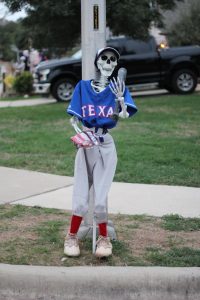 irst moved there and then it just became a big thing," Martin said. "People just started showing up and now it's a given; if you live on that street you kind of have to [decorate]."
Between weekends and off days, it takes some families up to two weeks to fully decorate the eerie cul-de-sac.  
"Normally when we decorate, everyone on the street is [also] decorating at the same time," sophomore Kadin Ali said. "[Being involved in the decoration process] makes it more enjoyable because you know you had a part in it."
As soon as everything is set up, local passersby will frequent Warnock Ct. each day, just to get a taste of the Halloween spirit. 
"I've been coming every year," junior Renushri Yannam said. "I've lived here since I was in third grade and I always knew this street was where everyone went. [I] love seeing each of the houses and what they've done differently and what they've done the same."
As Warnock Ct. is the main spotlight during Halloween, the rest of the surrounding neighborhoods are affected by the presence of the well-known street.
"I felt bad for the [other] neighborhoods too because they're feeling the effects of it," Martin said. "The expectations are set up for our street, but people are disappointed when they go [away from] ours. They'll have candy, but it won't be this big ordeal."
Between the installment, cost and planning that goes into decorating it makes some families question whether they should decorate or not. 
"I'd say it started out fun," Martin said. "We were on the news last year too, so that adds to the pressure and expectation where my family is like 'I don't really wanna do it this year,' but part of living on Warnock is [that] those expectations are already set. You can't really change that."
Despite the excitement, fun, and charm the street brings to the neighborhood, the growing popularity can dilute the sense of community that was once present.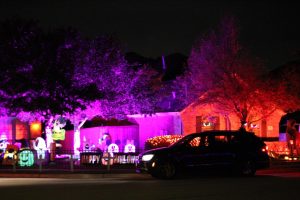 "I think as more people flood in, it's more industrialized," Martin said. "It feels more like an industry event rather than a celebration. It's very washed in a way. I like meeting new people, I just miss what it used to be."
The street stopped doing its yearly competitions in 2018, where the categories included best costume, best house and most money spent on decorations. They used to have block parties that started in 2011 where they were a lot more community based. 
"There's a lot of people going in and out," Cole said. "I feel the community has such a togetherness that it originally kind of went away after people started moving out and we got new people."
Each house on the block has its own unique theme. Some themes include clowns, The Nightmare Before Christmas, mad scientist, cartoon characters, etc. The Cole family goes all out with "Coles Coffin Camp." 
"We've also expanded my house a little bit with new decorations as well over the years," Cole said. "But we use a lot of the same stuff every year and so does everybody else. But I mean, it just gets bigger and bigger, step by step every year."
As Halloween creeps up the calendar, Pierce hopes that people will visit the street regardless of the difficulty that comes with maintaining the decorations.
"I'm excited for this year, Martin said. "I think even though it's a hassle, it's cool. I don't know a lot of people that can have that story of having 2,700 kids on their block for one night, but this year I hope people will visit. At the end of the day it's still Halloween."