The swim team won their first three meets of the season, and are gearing up for their fourth meet on October 27.
They won their season opener on September 13 against McNeil & Lake Travis, their second meet on September 16 against Glenn and Leander HS and their third meet at Temple on September 25.
"So far we have been doing pretty good," senior Hana Elzayat said. "We've got a good group of freshmen that are pretty fast and bring new energy to the team. Everyone is working hard, trying to make themselves better so they can contribute to the bigger meets that we have upcoming like at UT, State and Tisca."
Elzayat officially joined the swim team last year, and this year she is a captain along with Ella Mcquinn, Colby Nash and Max Jones. 
Story continues below advertisement
"The swim captains are very productive, and they are very nice and kind to their swimmers," sophomore Reetu Jitta said. "They really care about the swim team, and they do a lot for us."
Swimming has individual events broken down by distance, stroke, age, gender and relay type. The four types of strokes are freestyle, breaststroke, backstroke and butterfly. Points from each event are added together to determine team scores. 
"There is a big focus on your team, you want to support your teammates, you want to cheer them on," Hatch said. "But you aren't entirely reliant on your teammates in order to score points. You as an individual need to work to support your team and help them win rather than something like football, where you have to constantly pass a ball to each other in order to make it across the field." 
The swim meets are early in the morning and usually last about four to five hours. At the end of the meet, they announce the winners after adding up all the points.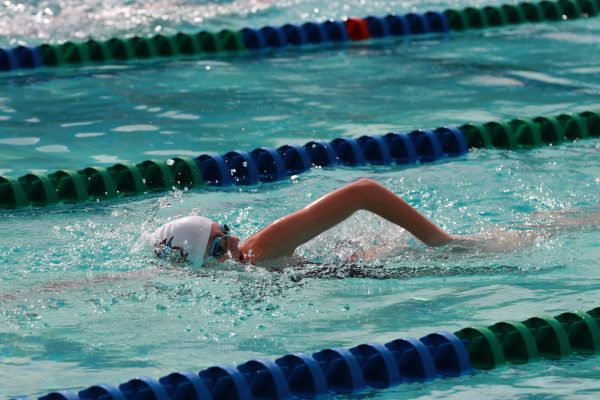 "The challenges during swim meets are usually getting pretty nervous before a race and you just overthink," Elzayat said. "What I found to help me is usually trying to find a quiet place and imagining my race and going through it over my head."
The swim team placed first at districts last year. Elzayat got 2nd in her 200 freestyle and 5th in her 100 freestyle. She individually placed seventh and eighth overall for two of her events.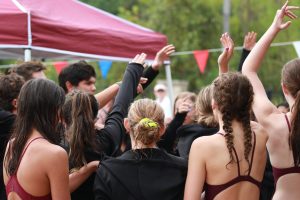 "I stay motivated and focused throughout the meet by just trying to focus on the positives and trying to make sure every race I swim is the best it could be," Elzayat said. "Also not being too hard on myself and understanding that every meet is different, and I'm not going to swim a personal record every single race."
On Mondays, Wednesdays and Fridays, the swimmers practice at Nitro from 7:15 am, and on Tuesdays and Thursdays, they do weight room from 7:45 to 9:15 am. This process happens every week and does not include the Rouse Booster Club. 
"It's definitely the people who make it fun," Elzayat said. "I've met some of my best friends on that team. We get to do everything together, we are with each other at 6 in the morning and late at night in swim meets."