For the first time in 12 years, the varsity football team beat Liberty Hill Panthers at Panther Stadium on Sept. 15.
"They don't lose very many games, if any, at Panther Stadium," Head Coach Joshua Mann said. "They are always a great tough challenge. Beating them meant we had to play as a team. It meant something to give a little bit back to the classes that fell short in the playoffs because of Liberty Hill." 
During the 2021 season at regional semi finals the Raiders lost for a second year in a row to the  Panthers 56-33. 
"I've played them 4 times, lost 3 and came out with a win senior year," 
Story continues below advertisement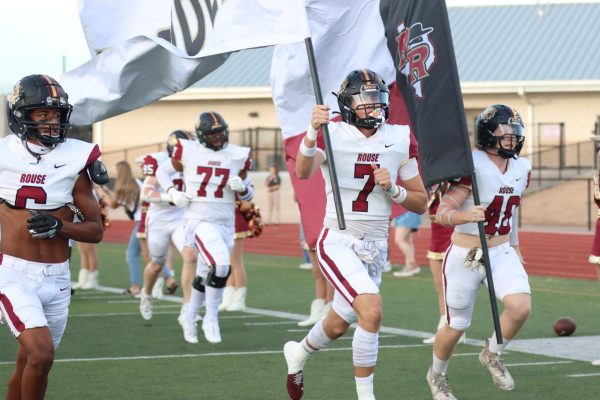 senior Running Back and Wide Receiver Justin Cannon said. "We walked in as freshman and lost, sophomore year lost again, junior year lost again and senior year we finally got them. This win gives us a little more confidence."
The game ended with a score of 28-19, continuing their winning streak. 
"It does and it doesn't change us," senior Right Guard Tye Rybarski said. "We don't want to think that because we beat one good team, we're going to win every game. It's not like that. It definitely helps us though, knowing that we have the potential to beat a really good team and we can carry that to help us through districts." 
Liberty Hill has won two state championships and currently sit at a state rank of 334. 
"The biggest thing was just focusing on ourselves and not worrying about playing Liberty Hill or the Panthers, what kind of school [they are] or their reputation," Mann said. "Just worry about us getting better on each play and each rep of the game. When there's a bad moment, you have to let it pass and don't let it affect the game."
The first win for the varsity football team was against Liberty Hill in 2008. 
"Beating Liberty Hill, I'd say it means the world but really it's just another football game," senior Outside Linebacker Caden Heitzman said. "We have to keep our heads straight because we have district coming up." 
Senior Receiver and Captain Keller Rodgers scored a total of 12 points in the game. The players hope to continue the momentum through district games starting next week. 
"Going into the game I felt like we are a really solid team, we have a lot of team bonding compared to past years and if we really came together we could come out with a win," Rodgers said. 
They play Connally next Thursday at Pfield in Pflugerville.