Making Our Heads Spin
A glimpse into life in color guard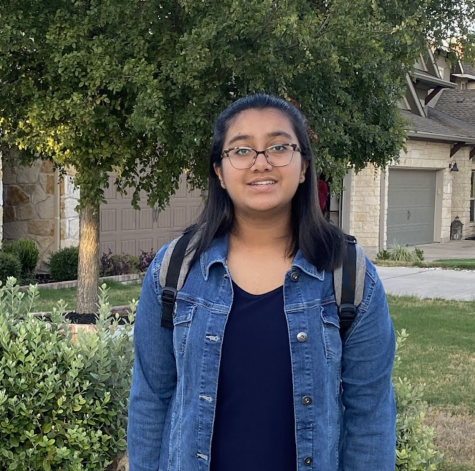 More stories from Snigdha Shenoy
Flashes of vibrant fabric, gleaming metal and twirling rifles fill the floor. Nemesis by Benjamin Clementine plays in the background, but the beat is drowned out by the crowd. The scene is from the winter guard show, performed on Feb. 25 where it won fourth place. Winter guard season has only just begun, and they have four competitions ahead of them.
High school color guard is a sports team that spins different props, including sabres, rifles and flags. The tradition can be traced back to the late nineteenth century when U.S. Military cadets would present flags at games and ceremonies, but high school teams often incorporate unique moves, creating a different art form completely.
"You can imagine dance, ballet, and gymnastics, but all together, and now add in flying swords," sophomore Lindsey Heyman said. "We're the portion of the band that adds the visual element."
Despite the color guard performing during every football game, it isn't as widely recognized as some other sports.
"I definitely would say it's underrated," sophomore Sarah Loranger said. "I feel like every time I bring it up, people are like 'Oh my god, what is that?' and I have to explain it."
Though color guard is most commonly associated with marching band, they only perform together for part of the year. Color guard is actually a year-round sport that competes at both the state (Texas Color Guard Circuit) and national (Winter Guard International) levels. 
"During marching season we spin equipment and we dance on the field with the band," Heyman said. "During [winter] season we have our own thing. Take what we have on the field, shove it in the gym, add music, and you have the winter season."
For the past four years, Wiley Middle School has offered an after-school group called Spin Club, where aspiring color guard members learn basic skills directly from high schoolers. This year, the school added it as a class for students to take during the school day. They competed for the second time on Feb. 25, earning a first place trophy.
"I think it's important because they get to have experience with high schoolers who have done it for a while, and not only that, they get to bond with people they'll be on a team [with] later on," sophomore Tatum Honeycutt said. "The kids are just so enamored by the rest of us on the team, and they're really excited and looking forward to high school."
Having Spin Club behind them, freshmen joining color guard can move onto more complex techniques in less time, making the entire guard much more efficient. They also build relationships with older kids along the way.
"High schoolers are also kids even though technically we're the teachers," Heyman said. "We can relate to the middle schoolers better than [our director] or a new tech can. We have a friendship that nobody else can. But we also, as high schoolers, see things differently. We offer what I like to think of as a bright new perspective."
The Wiley Spin Club competed for the first time on Jan. 28. 
"Their show's called Dancing in the Moonlight," director Anthony Mondragon said. "They did really well, they placed second, which was the best they've ever done since Spin Club started. I was excited about that, the kids were really excited about that and so were the parents."
This year, Mondragon is not only the Spin Club director but also the Rouse Color Guard director. Despite being a Colorado native new to Texas and LeanderISD, he has adjusted quickly to his new job. 
"They wanted me to move out here within a month so I had to kind of pack up everything and move out here to Texas," Mondragon said. "It was a lot, but very exciting. If you want to teach competitively anywhere in the country, Texas is kind of the place to be for band as well as for color guard. It's been a big dream of mine to come out here and work and Rouse has such a great band program so I immediately was attracted to it."
Mondragon's roots inspired him to start his career. 
"I just had a passion for the activity, as a performing member back when I was in high school," Mondragon said. "My old guard coach in high school just kind of said, 'Hey, do you wanna come help me?' And then that just turned into him going, 'Now you're going to teach them!' And I kind of got into it unexpectedly but realized that I had a passion for teaching as much as I liked performing."
There are some differences between Colorado color guard and Texas color guard, but the whole sport has been evolving over time.
"The demand from the students is so much more," Mondragon said. "The kids are asked to do a lot more skills as far as equipment skills, the spinning and the tossing, as well as body responsibilities, the dancing portion and all of that. I always joke with the kids that they're better than I was when I started. The things I'm asking them to do, we weren't even trying those things when I was in high school."
Color guard provides members with skills they can take to other areas of their lives.
"The goal is to teach them to be better people and to prepare them for outside of high school," Mondragon said. "Color guard [and] marching band is very strong character building. I think being a part of a team as a whole is an important skill to have in your adult life; being able to get along with people, respect people, know how to work in a group setting. These are a lot of skills I see other than just flags and stuff."
Leave a Comment