The Clock Strikes at 12 and Taylor Swift's new album "Midnights" comes out
The story of 13 sleepless nights scattered throughout [Taylor Swift's] life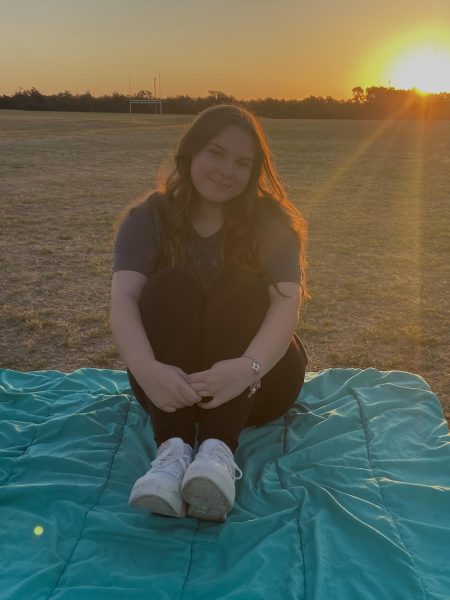 More stories from Hannah Thompson
"[It's] a collection of music written in the middle of the night, a journey through terrors and sweet dreams," according to Swift's Instagram.  
"You wanting me/tonight feels impossible/but it's coming down/no sound, it's all around," "Snow on the Beach."
Swift is essentially saying that it feels impossible for her partner to feel the same way she thinks about him, and how unreal it feels when you're in love and the other person feels the same exact way. Seeing snow on a beach would be odd but also beautiful and it perfectly describes how fictitious life feels when everything is going right and it seems "too good to be true".
Taylor Swift released her 10th album, "Midnights" on October 21, 2022. Jack Antonoff, Swift's longtime producer who helped Swift produce 1989 in 2014, "reputation" in 2017, "folklore" and "evermore" in 2020, "Fearless (Taylor's Version)" and "Red (Taylor's Version) in 2021, helped Swift produce "Midnights."
After producing two alternative rock indie albums, fans were excited to hear Swift's return to the "pop" world again. "Midnights" has 13 tracks, one of them including singer-songwriter Lana Del Ray. Swift considers Lana Del Ray "one of the best musical artists ever," so she was extremely excited to have a track with her. 
"'Snow on the Beach' featuring Lana Del Ray is track four and I cannot get through that sentence without grinning because I am such a massive fan of Lana Del Ray," Swift said on "Midnights Mayhem," the series of videos Swift created to announce information/"Easter eggs" about the album. 
"I feel the lavender haze creepin' up on me/Surreal," "Lavender Haze." Swift basically is describing the feeling of being in love feels surreal and the phrase "lavender haze" is referring to a common phrase used in the 50s that people used to describe being in love. 
"Like, if you were in a lavender haze, that meant that you were in that all-encompassing love glow, and I thought that was really beautiful," Swift said according to PopBuzz.
I think that "Lavender Haze" is a super upbeat and fun song that really reminds me of her album from 2019, Lover.  I thought it was a perfect opener for the album because immediately, it makes you want to dance, and it was great to have a happy opener to the album. I would honestly give "Lavender Haze" a 9/10, I feel it may be her strongest opener to one of her albums.
The lyricism in "Would've, Could've, Should've" is stunning, I got chills multiple times while listening to that song. Swift was extremely vulnerable in this song, and that definitely adds to the lyrics, especially when you understand what she had gone through being in a toxic relationship as a 19-year-old with a 32-year-old. The utter pain you hear in her voice in the lyric "Give me back my girlhood/It was mine first", gives me goosebumps every time I listen.
Additionally, Swift surprised fans by releasing seven extra songs on "Midnights (3 am edition)", so in total, the album has 21 songs. As Swift has switched from being a country artist to a pop artist, to folk music, and back again to pop music, she is experimenting with a lot of new sounds. Her song, "Midnight Rain" begins with an electronic type of sound at the beginning of the song, and Swift is receiving a lot of backlash for that. I have grown up listening to Swift, and I've been through all her different "eras" of music. Personally, I think that Swift experimenting with different sounds is smart because it allows her fans of 1989 and Lover to essentially "come back" to enjoy her pop music again.
Out of "Midnights (3 a.m. edition)," my ultimate favorites are "Labyrinth," "Sweet Nothing" and "Would've, Could've, Should've." I've always adored Lover and 1989, so I feel like that contributes to my likings for Swift's return to pop music, and her upbeat songs in this album. I appreciate that Swift included songs that weren't as upbeat on the album as well, because it allows for folklore and evermore fans to adore those songs as well.
All in all, I really love "Midnights", and I think Swift did an amazing job entering back into the pop music genre, and I loved all the different things she experimented with in this album. The more I listen to "Midnights", the more I come to appreciate it. "Midnights" is definitely becoming one of my top favorite Swift albums, and I can't wait to continue to listen to it and cherish it more. 
As of Nov. 1, 2022, Swift will be returning to the stadiums performing "The Eras" tour. According to Swift's Instagram, "The Eras Tour [is] a journey through the musical eras of [Swift's] career (past and present)." The Eras Tour will include Swift's most recent album, "Midnights". The tour begins on March 18, 2023, and is set to end on Aug. 5, 2023.
Leave a Comment