The Works of Welding
Current welding students discuss what goes into welding and why the Rouse welding program is successful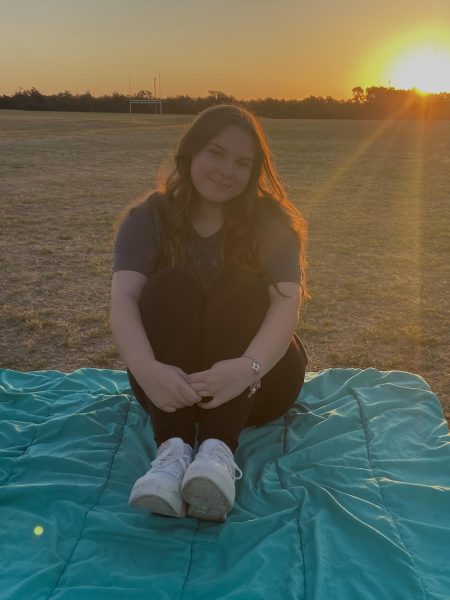 More stories from Hannah Thompson
In simple terms: fusion, creation, unity. Welding is the process that allows students to create a new product through fusing together metals and thermoplastics with heat. It is offered as a double blocked class at Rouse. Currently, the welding students are learning how to do uphill vertical welds.
"If I go too slow the molten metal drips down and creates hills," junior Jason Ringstaff said. "I have to turn the plate horizontally, turn it the other way, and bring it across the other side of the plate. It gets harder to weld through so you have to set up for the next pass of welds. Clean it up, and make it smoother so it'll be easier later on."
The welding process is time-consuming, and takes patience and perseverance. To continue creating more advanced welds, the welding students must practice basic skills the first six weeks to prove mastery.
"The program that we have created here motivates me to come to school everyday to weld," senior Timothy Giebelhaus said. "It's a really good program where people can learn and grow in welding, it's a very good industry to be in." 
According to the U.S Bureau of Labor Statistics, women only make up 3.8% of the welding field as of 2020. Senior Avery Hoffman is the only girl in her welding class.
"Mrs. Morales is somebody to look up to because welding is a male-dominated field," Hoffman said. "She's helped me to learn how to weld in that way and I hope to weld in the future as well."
Welding can be dangerous because of the exposure to metal fumes and the UV radiation. Without taking safety precautions, severe burns, long-term eye damage and electrical shock can occur.
"We have to wear safety goggles all the time," junior Caden Heitzmann said. "We also have masks or face covers to protect us from the light so we don't burn ourselves."
The community that both the welding students and Morales have created at Rouse allows for students to feel welcome in the welding room and has created a space for students to want to come back to every day.
"Welding has had a positive effect on me," Ringstaff said. "Whenever I come in here, I'm just in a better mood. It helps set up for my future too."
Leave a Comment