Fall Show Review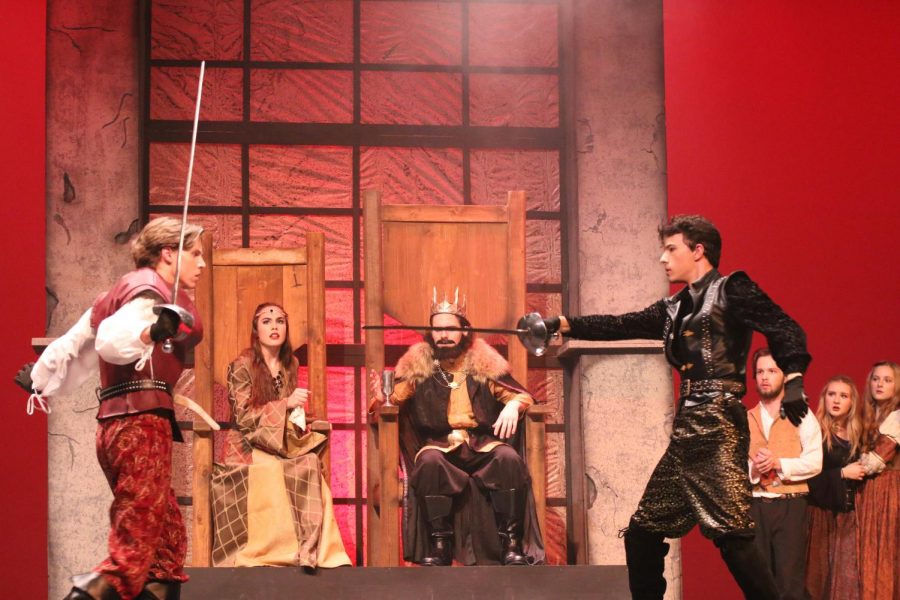 The theatre department's fall show opens at 7:00 pm Oct. 18 and 19, leaving room this whole week for intense dress rehearsals every night before, perfecting every last moment of every scene. Raider Rumbler was allowed into these dress rehearsals for a sneak peek. 
     The consensus: it is absolutely phenomenal.
       For the first half of the show, JV Theatre students file throughout the stage one by one, recreating famous Shakespearan scenes with comedic twists. 
     The one acts begin with Act I of Romeo and Juliet, played by freshman Langston Lee and senior Amae Abner. Throughout the one acts, monumental scenes from Romeo and Juliet are acted by a revolving door of Romeos and Juliets- act two features senior Sam Ingram and sophomore Brenna Kenney while the classic young love tragedy is finished with an emotional monologue from sophomore Piper LeLeux's Juliet. Though different actors perform each scene, all renditions of the star-crossed lovers perfectly encapsulates the true youth of the characters. A projected fan favorite is A Midsummer Night's Dream with junior Carson Dorris' Puck, senior Laurin Mason, sophomore Kylie Hernandez and Makayla Lambert's mystical creatures watching impishly and mocking the main characters imploding tensions.
      From Romeo and Juliet to Two Gentlemen of Verona, these small one acts begin Theatre's Fall Show and open for Hamlet. 
     The auditorium turns dark and ominous when suddenly lights shines through in a dim blue, only enough to see concrete pillars towering high and mighty, centered by great wooden thrones. Hamlet is unbelievably believable in the sense that the audience does not see junior Chandler McKim. The audience sees the deranged duke Hamlet, coming to terms with his father's murder and spiral into insanity as he seeks vengeance. The audience does not see normally poised senior Keaton McLachlan, they see Queen Gertrude, a worried mother who knows not of her husband's murder but only of her son's derailing psyche. 
   Theatre's Hamlet also has its own twist on the historical Shakespeare work – as everyone wears masks as the Player Company performs rather than the Player Company wearing them. It adds suspense to the impending accusations and betrayals as the lighting changes (in thanks to cues rightly timed by the phenomenal Tech department) into a horrid red, fading in and out with a misty blue – just like the title character's emotions. 
     This year's Fall Production is amazing in its character development, character analysis and interpretation. The actors acting perfectly is there. The tech department's design and cues are phenomenal and enhance the show by changing moods with light, adding to the scenery with sound and physically switching scenes with set crew members.
     So, in summation, an evening with Shakespeare exceeds expectations. Everything is there. The real question is – will you be? 
     Fall Show Rating: 5 out of 5 stars