Rockin' Raiders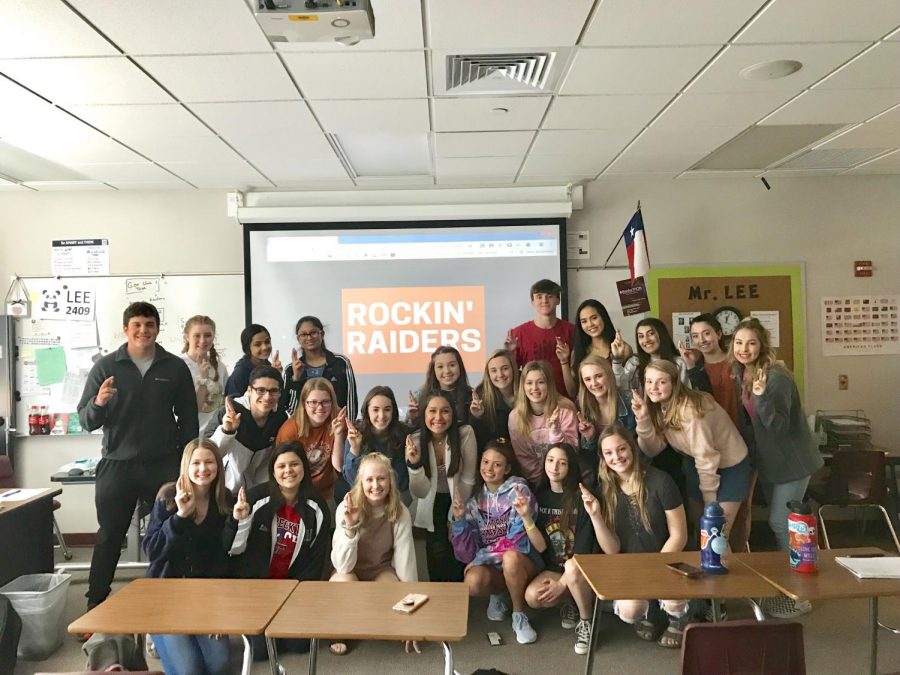 Sitting in the stands fans can hear the roars for the players on the field coming from the student section. Students shake their noise makers wildly and hold up decorated signs for the team. The cause of this student spirit is the new Rockin' Raiders club.
    The Rockin' Raiders are hosting a parking lot potluck Friday before the varsity baseball game against Glenn. Rockin' Raiders is a club that is working towards bringing spirit to Rouse by supporting all extracurriculars, not just the bigger sports.
    "The main goal for this club is that we want Rouse to become more united and make everyone feel like they want to come to school," Rockin' Raiders president Lila McPherson said. "We want to let everyone know that they're not putting in their time in effort into their activity for nothing, that someone cares."
    The idea of the spirit club came about during a round table meeting last fall. The group was talking about how the school needed more spirit and traditions. McPherson and vice president Erin Stewart decided to take some action and created Rockin' Raiders.
    "To me Rockin' Raiders is a way to make our high school experience more enjoyable and a way to make everyone feel like they are being cheered on," Stewart said. "I see Rockin' Raiders becoming a popular and fun club you see at almost every event."
    Right now the club is working on promoting themselves and making sure the people who are members are attending events. Rockin' Raiders meet every other Thursday during advocate in history teacher Max Lee's room, Room 2409.
    "I hope that the club grows to the point that no matter the event, game, show, etc. people attend that there is always a core group of "Rockin' Raiders" there being loud and supportive," Lee said. "The club is and needs to be very student driven so it's up to the membership to drive the details.      
    Rockin Raiders plan to be at the Rouse Band Pineapple 5k April 13. Some members also plan to participate in the 5k while others will be there to encourage the runners.
    "I heard about the Rockin' Raiders through one of my cheer teammates Lila who is the president of the club," senior Drew Padilla said. "We bring support to other students to show what they do is important and that it matters. It makes -people happy that other students see what goes into that organization, and that's why I like it because it brings joy to others."