Soccer players discuss what makes the sport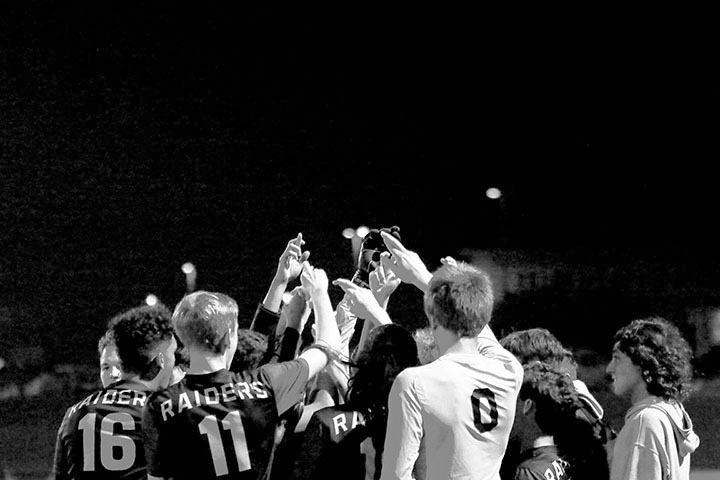 After countless hours of training hard and trying their best on the field, the soccer players are mid-way through their season. Staffer Natalie Sinha interviewed three soccer players about the season: varsity player Max Nichols and JV players Jeremy Garcia and Hailey Sanchez.
How is your team preparing for each contest during the season?
MN – Every practice we train really hard.
JG – We usually prepare the same, getting our mental state right before a game and and making sure we stay focused.
HS – We practice after school until 5 p.m. and really work on our offense.
What are some team goals for the season?
MN – We would like to make a run in the playoffs.
JG – We have a good squad, and we want to be the top team in the district.
HS – To beat Cedar Park, to try and stay undefeated and to get the most shutouts.
What are your personal goals for the season?
MN – To make varsity.
JG – To lead the team and help some of the young guys get used to playing at the high school level.
HS – To score three hat tricks.
Who are you most looking forward to playing?
MN – I can't wait to play Cedar Park and Glenn because I have friends there.
JG – I think I'm most looking forward to playing Glenn because building a new rivalry is always fun.
HS – I am most looking forward to playing Cedar Park and Pflugerville. They are the two toughest teams in our bracket.
What's your favorite part of soccer?
MN – The feeling after getting a big win at home.
JG – The emotion that goes into the game.
HS – Scoring a goal and hearing everyone cheer for you.
What has soccer taught you that carries over into other aspects of your life?
MN – Soccer has taught me to keep working until you get what you want.
JG – Learning how to stay calm with some refs and other teams.
HS – Friendship. You gotta be nice to everyone, respecting them on and off the field.
How did you get into playing soccer?
MN – I first started playing with my friends when I was about three years old.
HS – I was three and my parents needed somewhere to put me while they were at work.
What does the team do in a typical practice?
MN – We start with our warm ups and then practice passing and shooting, and we scrimmage at the end of practice.
HS – Definitely shooting drills and crossing. We do a lot of offense and defense, and sometimes JV plays against varsity to build up motivation.
What is the most difficult aspect of soccer for you?
MN – Running up and down the field.
HS – Losing. It's tough when you give it your all, and you still get defeated.
What is something most people don't know about the soccer program?
MN – In soccer, we are all friends and everyone gets along really well.
JG – Most people don't know how connected we all really are. My teammates are like my family.