Nationally acclaimed
Royals to perform in national competition over spring break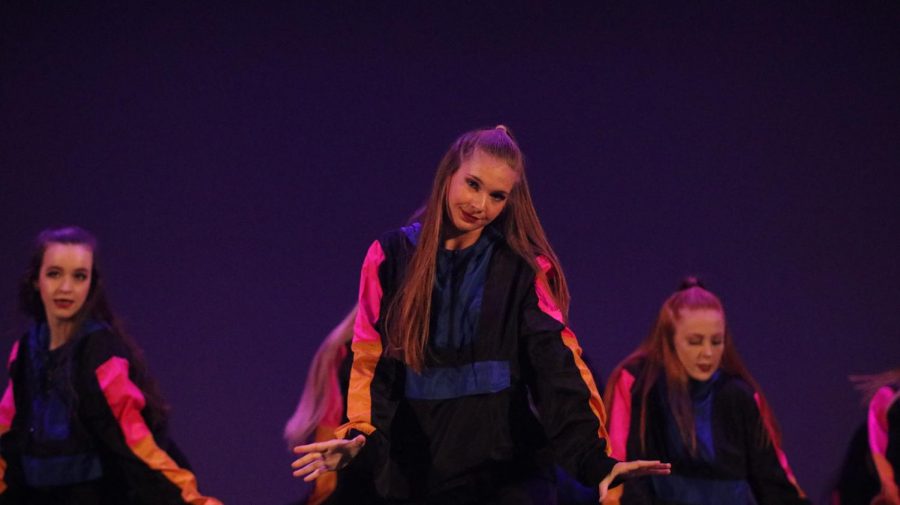 Members of the Royals dance team will compete in the Marching Auxiliaries national competition in Fort Worth, March 21-26. While competing, the team will perform their contest jazz, hip hop and contemporary dances, as well as their senior, junior and sophomore class dances.
     "MA Nationals is a dance competition that includes dancers from all over the United States," director Amy McKee said."Each team is placed in a category based on their size of their group, and we compete against teams in our same category. Groups compete in different styles including jazz, hip hop, contemporary, lyrical, tap, production, novelty and more."
     Although Fort Worth is not far to travel for the Royals, teams from all over the country will attend the competition to challenge each other for the first place title – the coveted MA jacket. Each week, McKee leads practice so the Royals will be as prepared as they can be.
     "A typical practice consists of a warm up, technique and then breaking down sections of our routines,"  McKee said. " It changes from week to week, and I try to mix it up, so the dancers don't get bored doing the same thing day in and day out. That's hard, because we have been doing some of our routines since August."
     The Royals get to school at 7:30 each morning to continue perfecting every routine. They work hard on developing skills such as turns, leaps and transitions between formations, to make their dances as clean as possible.
     "All of the Royals put in two hours of work each day before attending class," McKee said. "This year, we have some of the hardest routines the team has ever done, and I'm extremely proud of how they have adapted, grown as dancers, and worked to try new things every day."
     Since all Royals will go to Nationals for the first time, they aren't sure of what to expect from the contest. Captain Bailey Kerns said she is looking forward to to the memories she'll make, and seeing how the team can grow from their experience.
     "McKee has been hyping it up all year to get us excited," Kerns said. "My favorite part about any competition is dancing with my team and feeling accomplished after, but the best moments happen during our down time. There's nothing like spontaneously having a riff off in our dressing room while trying to do our hair."
     Junior Isabel Gruhlke said it's the little things that will make a trip memorable, and she can't wait to see how much closer the team will become because of their time spent together during competition. In addition to competing in Fort Worth, the Royals will also spend some time doing team-bonding activities.
     "There's just something special about getting through things together," Gruhlke said. "It's one of my favorite parts about being a Royal. Regardless of whether we win the jacket or not, I know I'll be very proud of my team."