Bring It On: Behind the scenes of spring musical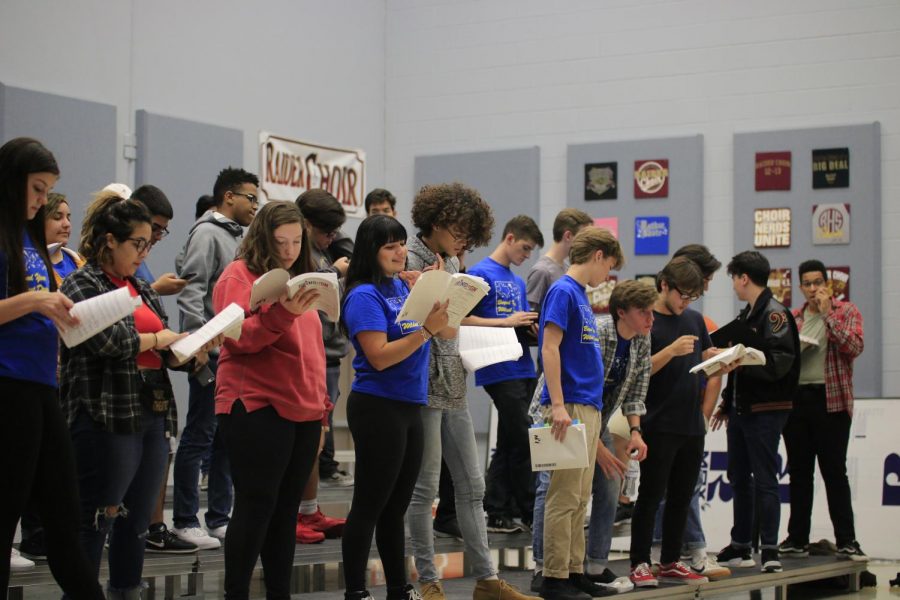 It's a story about acceptance and how diversity is a strength, rather than a weakness. The show is heartwarming, inspiring and will tell the story about how competitors don't need a trophy to show how bright they shine.
    Rouse Theatre's production of Bring It On:The Musical is set to debut Jan. 31, but the theatre department has been buzzing about it for a while. In October, more than 250 students auditioned for roles in the production, meaning 15 percent of the school population expressed interested in being part of the show.
    "We got to be super selective with the auditions, so the kids we chose are the best of the best," theatre teacher and director Stephanie Smith said. "They are continuing to work hard, and we are excited for everyone to see our story."
    Because of the large number of cast members needed, 12 students were selected for major roles. The show, which includes music by Tom Kitt and Lin-Manuel Miranda, is based on a movie from 2000, written about competitive cheerleading and its intense rivalries.
    Senior Christian Patty will play the role of Cienega, part of the trio of main characters from Jackson High School.
    "Playing such a large role in the show is what people dream of," Patty said. "I get to be seen through my own parts and voice, but I'm still acting together with everybody."
    Even though most of the actors chosen for Bring It On have been in previous productions, senior Destiny Cortese said there are still some challenges ahead.
    "Everybody in the musical is beyond talented," Cortese said. "They can all sing, and they can all act, but not everyone can dance. We are all learning, though, and it's very exciting."
    Cast members are getting choreography assistance from dance and cheerleading team members, working to make the musical an authentic cheerleading, step-dancing experience.
    "The audience is going to see how very, very, talented this cast is," Smith said. "I'm excited to think how incredible the show will be."