Scholars get ready to conquer the competition
UIL academic teams prep for successful season with practice meets.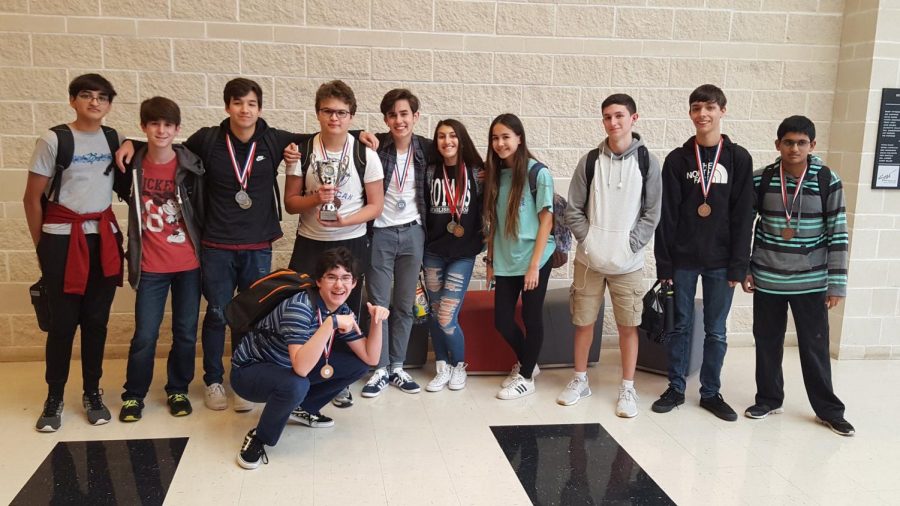 Maddie Barker, Staffer
December 21, 2018
     Students who compete in UIL academics gain an in-depth knowledge of their content area. With competitions in 22 different areas including accounting, ready writing, literary criticism,  mathematics, science, debate, poetry, spelling, and more, students can get involved in as many subjects as they choose.
    UIL academic team members attended two practice contests during the fall and will compete at other meets in January and February. District contests will be held in late March, and students are looking to advance to regionals or state in April and May.
    Current events is a UIL academic event which covers state, national and global issues. Students who compete in this contest take a multiple-choice test and write an essay about a topic relating to world events. English teacher KatieAnn Prescott coaches the team.
    "Current events students have had two standout performances at their practice meets so far," Prescott said. "Team members are working hard to prepare for each contest, reading from all news media and committing to memory any newsworthy events that have been reported on. My goal for the team is to be competitive and make it to regionals."
     Another area in which students can compete in is journalism. There are five events in which can choose from, including copy editing, news writing, feature writing, editorial writing and headline writing.
    "Having so many journalism events gives students who are talented writers an opportunity to shine," journalism coach Mikyela Tedder said. "It is difficult though, because students have to use journalistic style, news judgment and creative writing techniques to draw the judges' attention. Because journalism is a subjective contest, it provides a level playing field for new and experienced writers, which makes the contests exciting for everyone."
    Students who enjoy history and world culture can participate in the social studies contest. APUSH teacher Michael Hjort coaches and prepares the team for competition by quizzing them about their assigned topic. Students have to be familiar with historical facts and gain geography-related knowledge pertaining to a particular topic, to be prepared for a test that includes 45 objective questions and an essay.
   Senior Kent Ninomiya has been on the social studies team for several years, and along with his teammates, advanced to state last year.
    "Kent is a prime example for all of our UIL competitors to look at right now," Hjort said. "He not only wants to get to state, but he wants a state championship. At our previous practice meet, he destroyed the competition, but was disappointed because he wants a near perfect score."
    Hjort, who also serves as UIL Academic Coordinator, manages the school's entire team. He enters students in their respective contests, answers UIL-related questions, provides encouragement for competitors and coaches, and drives the bus to and from each competition.    
    "Our UIL team had many successes last year, but we fell short of having more students advance to the regional and state tournament," Hjort said. "To get more practice this year, seven of our teams are using an online test-taking tool to practice for their events. They take the test and their scores get ranked with other UIL teams across Texas, so our students can see how they rank among their peers. This gives the students more practice, and with more practice should come higher scores."
    Some students, like senior Evan Bures, compete in UIL contests for more than one subject. Bures participates in both social studies and current events, which allows him to develop good time management skills and teaches him how to balance extra-curricular reading with regular school work.
    "Finding time to study social studies and manage other school assignments is particularly difficult," Bures said. "Social studies involves intense research, however, I can review for current events when I am waiting in a line or have a spare moment. I study as much as I can, so we can win state, especially after our social studies team came so close last year."
    Academic competitors spend a lot of time working together, which results in close friendships between students who might not have otherwise met each other. As the season continues, students who compete in different subjects are there to support one another.
"We all want each other to succeed," sophomore Natalie Sinha said. "It's nice to be a part of a group like UIL Academics, where every member is passionate about what they're doing. Even though we all compete in different events, we're still united. We are 'one Rouse'."