Three cheers for inclusiveness
Squad makes history by including first male on team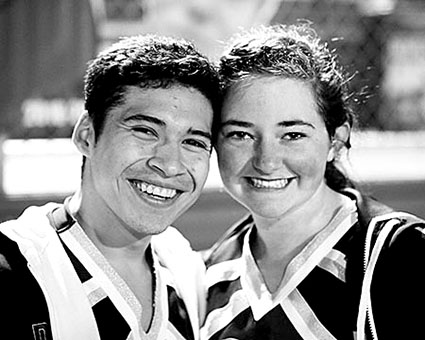 Brandon Lemus, Staffer
December 21, 2018
This year for the first time in campus history, a male student is on the cheer team. One of the main goals for the squad is to compete in the co-ed category for UIL competition, so that created a need to add more guys to the group.
    "We are currently practicing for UIL and have eight guys as part of the team," head cheer coach Brittany Onder said. "It is awesome. In the past, it seemed like cheer had a stigma of being a girls-only sport, much like dance, but we are really trying to break that mold. I think it's important for people to realize that cheer is a sport, and anyone can do it."
    For senior Andrew Padilla, it is a big deal.
    "Cheer has always been something I wanted to do," Padilla said. "Since middle school, I've wanted to be on the squad, but my parents said no. When it became my senior year, I begged and pleaded with them to let me join the team. After that, they finally said 'yes.'"
    Having Padilla on the team is a game-changer for not only the team itself, but also for other interested males.
    "I just feel like I'm naturally good at this," Padilla said. "I see a lot of people who are naturally good at this sport or other sports. I've never had feeling, that but when I finally became a cheerleader, I realized I was actually good at it, and that was a great feeling to have."
    To get all the male cheerleaders needed for a UIL competition, Coach Onder made it the team's mission to recruit guys for the upcoming school year.
    "We've been spreading the word as much as we can," Onder said. "The cheerleaders are out getting guys involved. We're trying to get people to see cheer as an athletic sport, and not something girly. We understand there are some girly moves, like hip shaking, but we've definitely worked on them, so maybe the guys will not feel uncomfortable doing those moves. If someone isn't comfortable, then we just tweak the moves to where they do feel comfortable. That's our ultimate thing. We want everyone to feel comfortable and included in the choreography."
    Spreading the word is something the cheer team plans to do to get more guys to try out for the squad. Tryouts will be April 17, 2019, with the candidates learning the stunts, cheers and routines April 15-16. Students will find out whether they made the team on April 18.   
    Anyone who wishes to join the varsity cheer team can try out as long as they can complete a running back handspring and a standing back handspring.  
    "To compete at the UIL varsity level and compare with other schools, we had to set certain standards for the tryouts," Onder said. "This will help our team get better and hopefully do well in competition."
   Padilla hopes to do his part to help recruit more males for the cheer squad by helping create some changes for anyone who might feel out of place in the group.
    "I want to help people become who they are and not be afraid to feel a certain way if they want to do something," Padilla said. "I'm just waiting for us to get a male Royal to be out on the dance floor. Slowly but surely our school is becoming more inclusive, and I'm hoping to see a lot of guys at tryouts."