Testing the waters
Swim team looks to improve records as spring season begins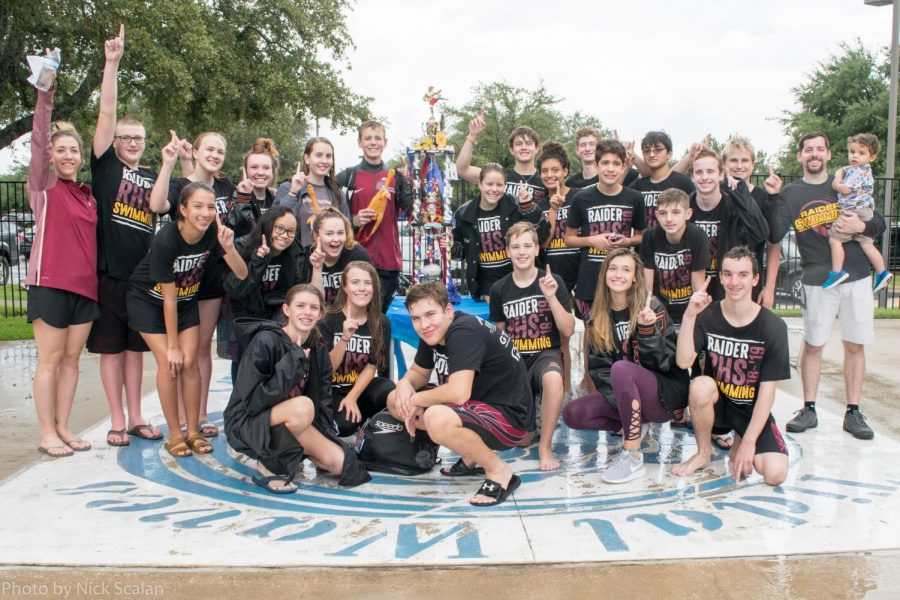 The swim team is preparing for a meet Jan. 5. After a semester of training, the team is ready to perform as well as they can to outpace their competition.
"Our biggest rival is Cedar Park," swim coach Christopher Eikenbary said. "We compete against six or seven other teams and win, but they are a talented team. We're closer than we've ever been to beating them, so if we ramp up the yards and the swimmers work really hard, we'll be the best we can be."
Eikenbary said the team is kicking their practice into high gear. Earlier in the year, the athletes swam around 3,000 yards, but now they've progressed to over 4,000. They even have mandatory practice over winter break to prepare for upcoming meets during the second semester.
"We practice a lot," sophomore Joseph Hunnighake said. "We go to Nitro at 7:15 in the morning. We stretch and swim laps all morning. Sometimes it's tough, but we push through it."
Freshman Chloe Nguyen, who is a new member on the swim team, said she enjoys practicing with her team in the mornings. However, her favorite part about the swim program is the pasta parties the team throws before a big meet.
"It's like a potluck," Nguyen said. "We all bring different kinds of pasta and desserts and basically pig out before we compete. It's good, because we fuel up on the carbohydrates we need for energy. The best part, though, is the whole team being there together, having lots of fun."
Nguyen isn't the only swimmer who appreciates the culture of the team. Female captain Taylor Shorb said her favorite part about swimming is the competition and camaraderie amongst her and her teammates.
"We are all friends with each other," Shorb said. "We're just a really close team. We always cheer for each other really loud at events because we want to see our team succeed."