Wrestlers pin for the win
New head coach encourages camaraderie, pride, intense workouts and increases confidence among team members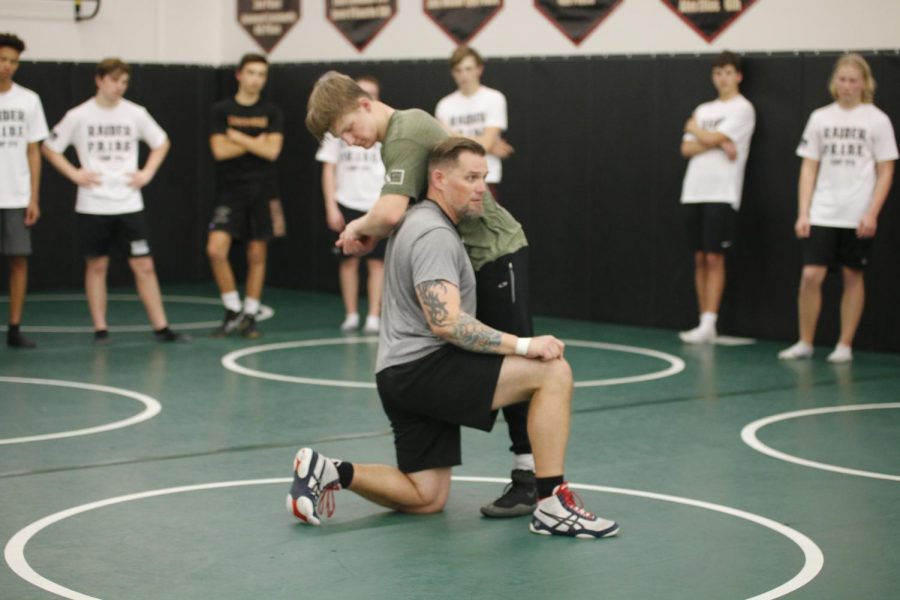 Kaitlyn Tacdol, Staffer
December 17, 2018
Everything is left on the mat.
It's a popular saying among wrestlers, but the outcome of each match is a direct result of the amount of time athletes spend on strenuous workouts and sparring.
While most people look at wrestling as an individual sport, new head coach Lehi Benton is developing a deep sense of comradery among his group. There aren't a lot of returning members from last year, but Benton is introducing the wrestlers to team-building workouts, and they are looking at a promising season ahead.
"Wrestling is a culture," Benton said. "When you commit to that, you don't just commit to practice. It's a lifestyle."
Every practice, the team does the Five Hundred, an ab-intensive workout completed in 500 repetitions. Then, at the end of practice, the entire team stands in a circle and does as many push-up as the countdown number, which is an exercise called the Ring of Fire.
"It becomes a point of pride for the wrestlers, because they get through it together," Benton said. "The entire team always does the 500 and the Ring of Fire."
Senior Avery Jones, one of the few girls involved in wrestling, said the workouts are more about encouragement. She said there is competition with each exercise, but teammates continue to motivate each other.
"It's definitely encouraging," Jones said. "You want to beat the guy next to you, or you want to see him finish all 500."
Jones and fellow senior Violet Hall are making the most of being on the team by practicing with their male teammates. Hall said they are not letting the unbalanced ratio get to them.
"We're hoping to get more girls involved – that's our ultimate goal," Hall said. "Avery and I are doing our best in practice and hoping to represent our team the best we can."
Jones and Hall both started wrestling their freshman year, when the team was under the helm of a different coach. This year, the group is continuing to make adjustments to Benton's unique coaching techniques.
"Whenever you get a new coach, there's always a new perspective and coaching style to get used to," junior Ethan Humphrey said. "You take one style from one coach and another style from the new coach, and you combine them."
The team is listening to Benton, working on getting stronger during practice and pushing themselves to compete at the top level. Hall said their confidence is growing, causing them to set big goals, both personally and as a team.
"We are learning that having a weak link in the chain doesn't do us any good," Hall said. "But, working together strengthens us all, and we want to grow as a team, so we can get better results in district, regional and even state standings."