Moving On Up: Rosie Palazzolo transitions to Assistant Principal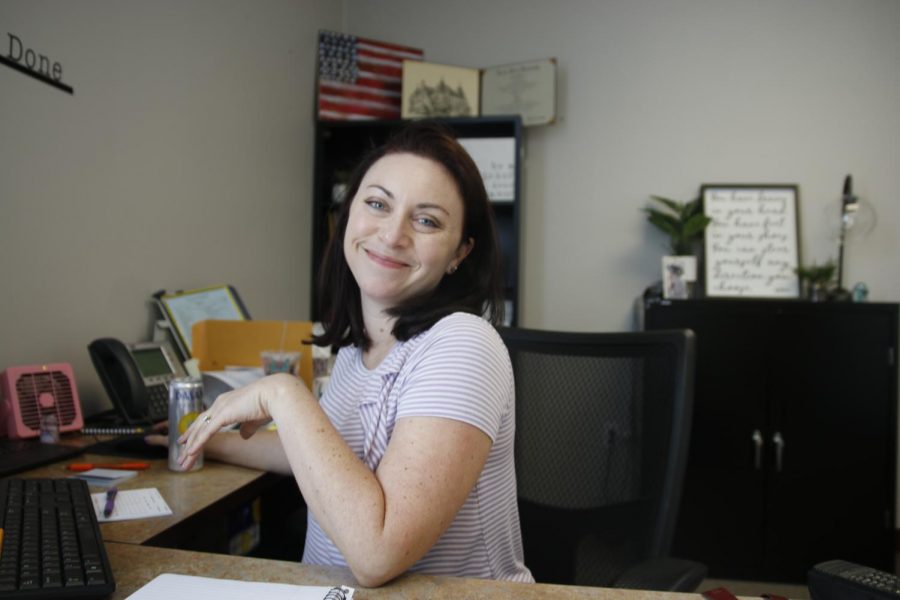 After a decade of teaching social studies, Rosie Palazzolo decided it was time for a change. Pursuing her Masters of Education, she thought about opening herself up to any new opportunities that came her way. But she never thought her fresh start would be so close to home.
    As of this year, Ms. Palazzolo is one of Rouse's newest assistant principals. And the transition from a teacher to assistant principal has been major adjustment for everyone.
    "It was hard the first few days of being a principal," Palazzolo said. "I missed having a class  and being in my classroom and teaching."
    Throughout her 10 years in education, this new AP has made a positive impact on many students. Whether it was their work, or their personal life, Palazzolo always made it her mission to make sure 'her kids' were okay.
    "I can remember specific instances in Ms. Palazzolo's class where somebody would seem down or seem upset, and she wouldn't make it obvious to the entire class," junior Claire O'Pella  said. "But, she would check on that person quietly and make sure they were okay, or she would pull kids out of class to make sure everything was good."
    Not only did she affect students' attitudes towards teacher-student interactions beyond the classroom, but Palazzolo also changed how students felt about learning.
    "She was always really relaxed," senior Blake Carpenter said. "Whenever she was in the middle of a lecture, and she said something wrong, you could just raise your voice and correct her."
    Students and teachers alike are all proud of Ms. Palazzolo rising to the top.
    "I'm happy because she's using her education to promote herself," history teacher Ali Miller said. "I know she knows what she's doing, and I know she'll be good for our campus, teachers and students."
    At the same time, students who've had her are somewhat sad to no longer see Palazzolo as a constant figure in the classroom.
    "I was sad in a way that Ms. Palazzolo is now an AP, because friends who are younger than me aren't going to have a chance to have her as a teacher," O'Pella said. "But I do feel proud, because it's cool to see one of my teachers work up to the position she's at now."
    Even though Palazzolo lost her close association with a select group of students and the ability to work closely with them throughout the year, she sees her new position as a better way to reach more students.
    "I like those connections with students, being a part of their lives, and hopefully giving them the best education they can get," Palazzolo said. "That's why I decided to be an assistant principal, so I could do that not just for my classes, but for the whole school."