Raiders Band Together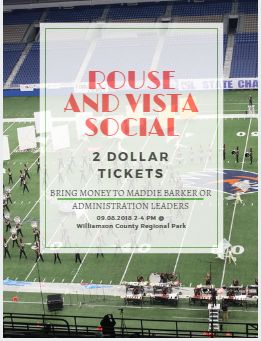 Maddie Barker
September 6, 2018
   Rouse and Vista Ridge bands will get together Sept. 8 for a social event. This is the first time in LISD history that sister school band programs have united in the midst of marching season.
    "I love the idea of band students from different programs reaching out and forming friendships with each other," Head Band Director Jason Robb said. "Considering that so many of our students went to middle school with the Vista-zoned Stiles students, I feel that this will positively affect the band."
   Across the district, directors are excited to have their band kids interact with each other, as the directors are very close. They believe having good relationships within LISD schools will bond them together.
    "Our directors are super excited to interact with sister schools this year," Vista Ridge Drum Major Abby Jablon said. "We always talk about being LISD strong. When we go to competitions, we'll have friends to cheer on from other schools, which is so exciting."
    When getting ready for high school, Stiles Middle School eighth graders are split between Rouse and Vista. Socials that include students from both schools give them a chance to see friends they parted ways with after middle school.
   "I am excited to get to hang out with friends," freshman tuba player Elijah Woodson said. "It will bring everyone together, and I can't wait to see my old Stiles people."
    With bands getting together for socials this year, students have an opportunity to engage in friendships with peers with whom they tend to compete. Seniors have the most experience with the program and are able to easily spot the differences.
    "I see our bands as being a family throughout LISD," senior and tuba section leader Rene Melendez said. "There's a big idea of being friends and sticking together and then meeting others gives us a chance to know them on a more personal level instead of seeing them as just other musicians."
    Last year, Rouse became the fifth high school in LISD to earn a title at the UIL State Championships. Going into the marching season, Robb said getting to know bands that reached success could give students a glimpse into what following processes achieves.
    "I think the competitive drive is all internal," Robb said. "I want our students to push to be the best versions of themselves, not be driven by the actions of others."