Lady Raiders hit the court for Volleypalooza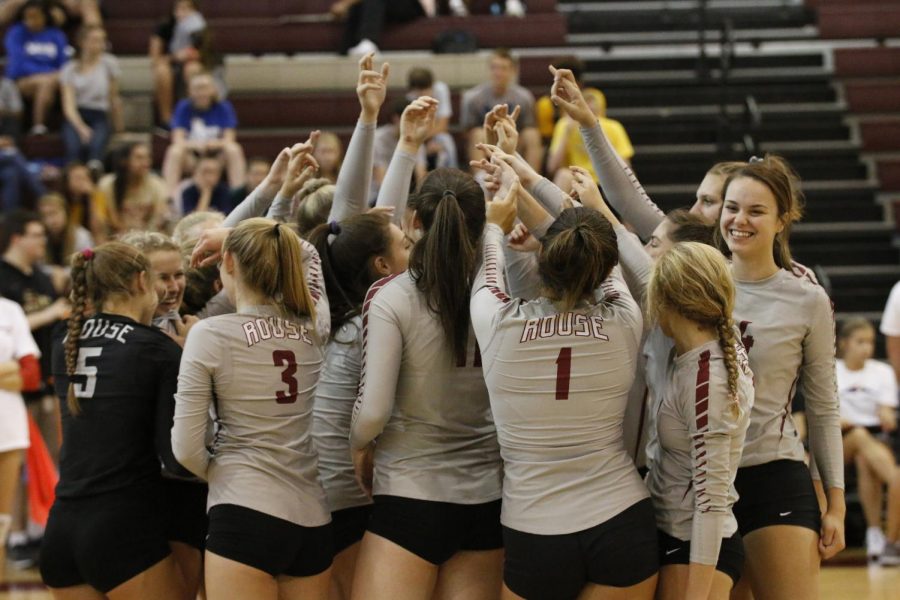 Varsity volleyball hosted their annual Volleypalooza tournament Aug. 23-25. The team went 2-6 in the three days and finished 34 out of 68 teams.
    "The best part of the tournament was the competition," Head Coach Jacob Thompson said. "We had to compete in every single match."     
    Schools from around Texas traveled to Leander to participate in the second largest tournament in the nation, and played in the Premier Athletic Complex and gyms across LISD. The first two days teams were divided into pools and on the third day teams competed within their brackets.
    "I loved watching all of the different athletes from across the state play each other," Assistant Coach Brenna Smith said. "Our competitors came out swinging, and it was fun to watch. I felt like I was getting a sneak peak at some athletes who will dominate as they move through their volleyball careers."
    Rouse won 6 sets during the tournament and lost 12. They ended up in Flight 1-A with a point ratio for the tournament of 0.9583.
    "Our goal was to make it into the gold bracket, but we knew it would be tough competition," junior Grayson Schirpik said. "We didn't finish how we hoped, but we played good competitive teams which was good before going in to district."
    This year volleyball has several new players on varsity, one being sophomore Emery Reid. This was Reid's first Volleypalooza, and she played and started at outside all the way around.
    "Being the youngest one on the team was definitely a little scary at first," Reid said. "When playing at a higher level, I had  to get used to the tempo of the game, but the older girls were very welcoming and made the transition easy. My first Volleypalooza went well, and  the competition helped prepare us for district."
    This year, the volleyball program's motto is "Kaizen," which is a Japanese philosophy meaning "the continuous improvement of oneself." Thompson chose the motto to inspire the team while carrying on their development throughout the season.
    "Our team is working everyday to get better," senior Kenzie Huntley said. "Right now we're focusing on positions and being the best we can be at the little things, so the big things can work themselves out. We have a lot of room to grow as individual players, but mostly as a team."