The Making of a Senior
As the school year comes to an end, seniors share their thoughts on their time at Rouse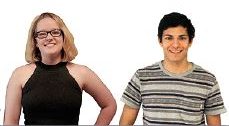 Nalani Nuylan, Emily Rowe, Araceli Cruz Gonzalez
June 6, 2018
Hang on for a minute...we're trying to find some more stories you might like.
Biggest Regrets: complied by Nalani Nuylan
After four years in high school, the seniors are ready to move on. But what are the things that they missed out on? Here are what some seniors wished they could change about their experiences in high school.
"My biggest regret is not being more cautious of my grades and GPA my freshman year. I struggled with time management and having well-rounded participation." – Becky Kirby
"My biggest regret is not being able to play at district in tennis this year." – Sam Wilhite
"My biggest regret is thinking that I wasn't able to talk to people because they were more popular than me." – Cassidie Cox
"My biggest regret is not making more friendships because I was too focused on my grades. It's good to have those healthy relationships in high school." – Henry Blake
"My biggest regret is not taking AP classes freshman year because I took all on level courses. I wanted to challenge myself and I should have done it sooner." – Adrianna Guajardo
"My biggest regret is not trying out for sports and not getting more involved in school." – Savana Holland
Advice to Underclassmen: complied by Emily Rowe
Through trial and error, seniors have gained knowledge on how to survive high school. Here are some of the best tips and advice that they want to share.
"Don't procrastinate on the biology review book at the end of the year. I waited until the last minute, and it was horrible trying to get it done." – Leighana Vasquez
"Train yourself to not procrastinate and don't put stuff off, because senioritis will ruin you when you get to last year." – Noah Davis
"Do your homework and turn it in on time because it will help you learn the material and prepare you for the real world." – Drew Simental
"Do your work on time so you don't have missing assignments, or else it'll catch up to you and bite you in the butt." – Zach Ingram
"Don't slack off, and use your remaining time in high school to make yourself look really good for colleges." – Mackenzie Berkley
"Don't fill up your schedule with hard classes your senior year. Take it easy on yourself." – Jacob Milliron
"Keep it easy, and know how to say no. If you commit to everything, you'll just stress yourself out. High school is supposed to be fun." – Alyssa VanDyke.
"Be as involved as possible because it'll make high school a lot more enjoyable." – Chloe Hatfield
"Senior year is not a blow off year. Use your time to be more involved in clubs and events." – Kyle Rubio
"Don't give up. Be sure to push yourself and enjoy the time you get with friends." – Kacie Brown
Favorite Memories: complied by Araceli Cruz Gonzalez
While seniors are on their way to college, jobs or service to their country, they look back at some favorite memories they have experienced at the Rouse House. While high school may only last a short time, some memories will last a lifetime. Here are a few moments they relived.
"Definitely winning homecoming queen, and my boyfriend winning homecoming king. Softball playoffs were also great." – Yvonne Castillo
"Going to football games was really fun. I went with my friends, and we supported the team and had a great time." – Brenda Diaz
"A great memory for me was going to state with the band. We had never gone that far before, and we worked toward that goal since my freshman year. To actually live out that historical moment was big for us." Hannah Davey
"My favorite memory was seeing the underclassmen improve and knowing that the theatre department is in good hands next year." – Emily Spitler
"My favorite memory at Rouse was homecoming. It was the first time I ever made a mum. I went to the game, and I remember being so happy for Yvonne and Hayden when they won the court announcement." – Pauline Urbina
"My favorite memory was being in the Shrek musical. I was the Mad Hatter, one of the story tale creatures." – Hayden Fowler
"I would have to say my favorite memory is when my friends and I joined the League of Legends tournament and won. I have no regrets from that day." – Nickolas Dunfee
"My favorite memory would probably be the football games. I can't really pick a single one that stood out, but I love the sport and the excitement of it. Everybody was always there, so we had a tight little community." – Noah Dishman
"Definitely Raider Con 2018 was my best memory. It was a massive community event that included everyone. You could just go there and nerd out." – Alek Bari Dos Reis
"Some of my favorite memories were how well our musical did this year and how far theatre made it in UIL competition." – Juan Lopez