She Took a Stand
Senior creates event to prevent dating violence

It only takes one spark to ignite the flame. Given the day and age of speaking out with #TimesUp and #MeToo, senior Kristen Jones decided to make the movement real for the Raider family. She spearheaded a project called Not#MeToo, which served as a way to prevent teen dating violence.        
    Jones took on the project for her Girl Scouts Gold Award. For her to receive the award, the senior needed to prove that she took on a project that would provide a lasting benefit to the community.   
    "I wanted to prevent students in general, not just girls, from adding to the hashtag," Jones said. "I thought what better way for me to bring awareness than with Girl Scouts?"   
   Originally, Jones wanted to host a club on campus, but she turned the project into an event. The event took her four months to plan.
    "I went to an organization called Expect Respect," she said. "When I was over there, I had to go through training on how to handle personal information. I also had to fill out spreadsheets for Girl Scouts documenting my hours."
        Expect Respect is part of the Stop Abuse For Everyone Alliance in Austin. They have served the Austin community since 1988. Randy Randolph worked with Expect Respect for 19 years. She partnered with Jones to showcase Not#MeToo and served as a guest speaker to the event.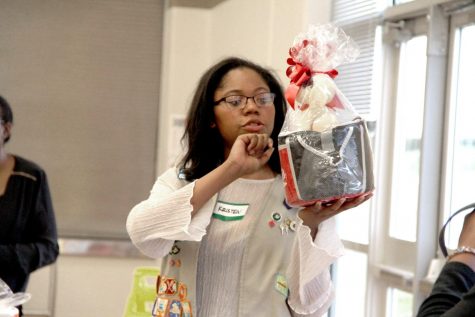 "It was really a prevention message, and that's what we are really about," Randolph said in an interview with KXAN. "The reason I choose to work with young people is because the message is so powerful coming from them. Teenagers have an infinite ability to want to help each other."
    The event consisted of Randolph giving a speech and attendees moving to different stations that corresponded with the speech. The event closed with a raffle giveaway of gift cards, movie tickets and two Cane's gift baskets.
    "I [made] posters and got linked up with Assistant Principal Ms. Porras," Jones said. "She helped me with dates. I also contacted sponsors to let them know what was going on."
    To help spread the news, Jones relied heavily on social media. She said posting about the event helped spread the news because so many of teens are on it.
    "I had a lot of positive responses," Jones said. "I had someone DM me on Twitter. They told me that they experienced teen dating violence, and they appreciated that I was tackling this project. It was really cool to see how people were excited about this."
     Senior Payton Watts came to the event on Tuesday, Feb. 28. She first discovered it the day of by posters hanging around school.  
    "I originally thought it was a school administered event, but then I saw that Kris was doing it," Watts said. "It was amazing and impressive that Kristen put it together all by herself. Just her drive to help people was amazing for a high schooler."
         From an anonymous tip, reporter Chris Davis from KXAN picked up the story. He originally heard about it through KXAN's online submission form called Report It.
    "I emailed Kris right away and asked if we could set something up," Davis said. "Fortunately, on the morning show we like to air stories about what is happening that day, so, it worked out really well."
    The reporter said using the #MeToo movement as a tool tell Jones' story was powerful. Davis agreed that it helped and said dating violence and harassment among teenagers is too often ignored.
    "It was great that she took something that is a national conversation and said, 'How can I make this better at my school?'" Davis said. "I thought it was a smart idea and a way to make an impact on the community. It was an interesting thing I had never heard of before."  
    Davis said Kristen's story started a conversation that made his coworkers realize dating violence was a bigger problem than they thought.
   "I can certainly speculate that it also started a conversation among other groups of people, as Kristen was aiming to do," Davis said.
    Meeting the senior was Davis's favorite part about working on the story due to her clear vision on where she wants Not#MeToo to go in the future.
      "It was great to focus just on what Kristen wanted to do and why she wanted to do it," Davis said. "It was eye opening."  
    Not#MeToo will be an annual event hosted at Rouse. Next year, the event will be organized by sophomore Edna Rotich and juniors Andrew Padilla and Megan Ombres.
    "When Kris went in depth with her plans, it was a big thing that I wanted to be a part of," Padilla said. "It seemed like it would help a lot of people, and that was the main reason I wanted to do it."    
    Jones was excited to have the underclassmen take over the project and for upcoming events, looked at students who had the same drive and passion as she had about teen dating violence.
     "It was one thing to choose someone just because they asked and wanted to put it on their college applications, but it was a whole different situation when I had people who wanted to make a change in their community," Jones said. "Edna, Andrew and Megan are extremely talented and responsible members of the cross country and track teams on campus, and I have complete confidence they will deliver this event just as good, or even better, than it was this year."
     Jones is still wrapping up her event by filling out paperwork for Girl Scouts and updating her website to continue promoting the event. She is hoping for even more success in the future.
    "This journey has been amazing and has taught me more about myself than I thought it would," she said. "For the upcoming Not#MeToo events, I am hoping a club will develop and partner with it. I wish we could get several commitments from businesses for donating purposes, and I would like for students to not fear this topic. I hope that with the help of my event, other schools may throw their own events and have Not#MeToo events occurring all over our district and impact countless other communities."   
    It only takes a spark to ignite the flame, and this flame is spreading because of Kristen Jones, a senior who wanted to make her world a better place.