Senior hosts event that promotes consent and teen dating violence awareness
Nalani Nuylan, Managing Editor
February 27, 2018
Hang on for a minute...we're trying to find some more stories you might like.
Rouse will host a consent conference tonight from 4 p.m. to 6 p.m. in the cafeteria. The purpose of #NotMeToo is to inform and educate teens on dating violence. Senior Kristen Jones created the conference.
"I personally want to prevent students from adding on to the hashtag," Jones said.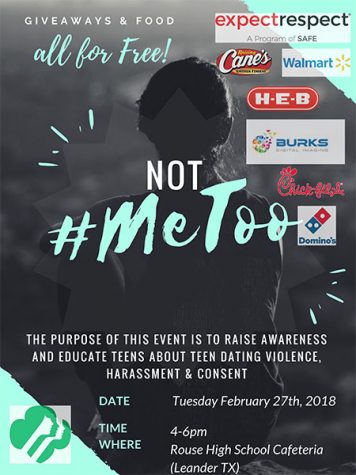 Jones partnered with an Austin organization called Expect Respect for the event. They have educated students about dating violence in the Austin area sine 1988 Randy Randoff will speak at the event.
"Randy has been working with Expect Respect for 19 years," Jones said. "She has worked in schools and she is a councilor. She typically works with women who are dealing with dating trauma. She is a wonderful women, she's awesome."
is free and there will be give-aways for a Cane's Gift Basket and Target gift cards.
"I'm just so exited that we are able to talk about it," Jones said. "How can students feel safe at school if we don't talk about it? I think I will feel like I have made an impact after it's done and that is what I want."
Stay tuned for a full length follow up fetcher about #NotMeToo and the impact it had on Rouse.