ApPaulled
Staffer voices opinion on Youtuber after disturbing and disrespectful vlog went viral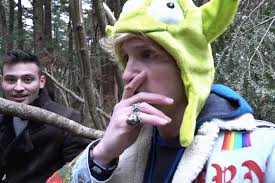 Brandon Lemus, Staffer
January 18, 2018
Hang on for a minute...we're trying to find some more stories you might like.
  He made a mistake. Or at least that's what people are saying. But to what extent should we be excusing these so called "mistakes"?
  Is it really acceptable of someone to visit a foreign country, film a dead body, and then proceed to upload it on the internet for millions of people to see?
  Excuse me, but that'll be a big no.
  We are living in the year 2018. Suicide awareness has become a large part of our society.
What's more, is that it is becoming more prevalent than it already was. That is amazing because there are so many people in the world who need help.
  Having said all that, Logan Paul, you have messed up.
  Really, really bad. Not only are you an adult and old enough to know right from wrong, but you are also a Youtuber who has a very large following. Plenty of which are probably below the age of 15.
  Did you honestly think this was a socially and morally acceptable thing to do?
  There are certain responsibilities Youtubers have, due to the position they hold.
  Social media has been known to have large impacts on our society in the way we think and act.
  With everything I've stated above, such as suicide awareness, you'd think one would be able to understand certain boundaries should be there when talking about something as sensitive as suicide.
  Being the curious person I am, I was intrigued to find out exactly what the audience thought about the whole situation. What I was presented with was shocking, and it actually made me sick.
  Of course, there were people who defended Paul's actions. Many of whom said things like, "It was just a mistake." "He was just being stupid." "I forgive him, and so should you, if you're a real fan."
  And then there was, "People just don't want him to be successful."
  In response to the last comment, I could no longer hold back.
  Somehow this person believed that "informing me" that they were in fact 19 was supposed to make me feel better about their judgment.
  I attempted to put things into their perspective. I did this by asking them how they would feel if someone filmed the dead body of someone they knew for the sake of "YouTube History."
  The video that Paul uploaded was clearly edited down to a "T," and the cinematography was absolutely stunning.
  By no means is this a compliment
  I bring it up because editing videos and uploading them on YouTube takes a big chunk of time. The excuse that it was a stupid mistake, and that he had no idea it would have such a negative affect is not valid.
  He had plenty of time to think about whether the video's content was appropriate enough to put on social media. Which brings my next point.
  When you upload a video of a dead body and say it was an accident, then make a stupid joke like, "What? You've never stood next to a dead body before?", it makes it harder to not be enraged.
  Sure, maybe his initial reaction was genuine. However, as the video progressed, it's clear he was being disrespectful.
  Not once did he put that camera down. He kept filming, and when he saw the body, he told the person filming to grab the camera and keep going.
  How is this okay? It isn't.
  It's completely unacceptable. But, by far, the most disgusting thing about this video for me was when Paul claimed he was raising awareness.
  Yeah, sure.
  Showing the corpse of someone who killed themselves is a great way to raise awareness for suicide.
  Not. Even. Close.
  That is not suicide awareness at all. That is the kind of thing that will send someone flying backwards while they are trying to make progress with their depression.
  It wasn't okay, and the fact that some of his following fully supports him, is heart wrenching.    
  How could anyone say that this is okay?
  How anyone could possibly think this an acceptable thing when it is unforgivable I will never know.
  Just like I will never understand how the apology Paul tweeted out was an actual apology. He referenced himself so many times, it was hard to believe it was an actual apology. Nevertheless he did apologize even if it was absolutely terrible.
  However, this story does have a happy ending.
  Logan Paul was demonetized, which means he can no longer collect money from any YouTube ads, and he has also been suspended from future YouTube projects.
  If there is anyone out there who would like to read the original statement, YouTube has posted it on their website.