In the Eye of the Storm
District partners with LEEF to aid Corpus Christi.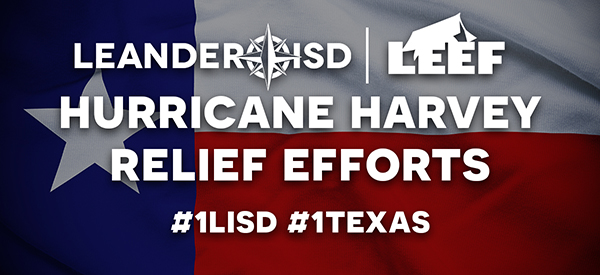 Nalani Nuylan, Managing Editor
September 15, 2017
After the events of Hurricane Harvey, the district has partnered with Leander ISD Educational Excellence Foundation to provide a Relief Effort to help the Corpus Christi region.   
"Our goal is to support as many students in the coastal regions as we can," Leander's Chief Communications Officer Cory Ryan said. "Efficiently through bulk purchasing of supplies and effectively by partnering with the Region 2 Service Center to get supplies where they will have the most impact."
LEEF is a 501(c) non-profit organization that works closely with LISD to provide support to students and teachers for roughly 10 years. The district will collect the money while LEEF will purchase the supplies.   
"I am personally dedicated to LEEF," executive director Gloria Gonzales-Dholakia said. "A foundation similar to LEEF provided resources to me while I was in high school -these resources were instrumental to my academic success."
LEEF's other success include Chip in for Education -Annual Campaign, May 2017 Grant Patrol, and the LISD Backpack Attack.   
"Our benefit is knowing that we are supporting impacted schools in an efficient manner," Gonzales-Dholakia said. "We all wanted to step in and help but we also wanted to be sure not to give additional work to the schools – the school supply fund drive allows us to purchase new school supplies in bulk and deliver them straight to their distribution center."
The school supplies lists based on other local school supplies efforts for back-to-school. The district created a list that makes sense for students based on their grade levels and allows them to maximize the buying power with their business partners.
LISD and LEEF launched the campaign on Sept. 2 with a goal of $10,000. As of Sept. 8, they collected $11,000 which will support at least 110 students. Region 2 will store and distribute these supplies across the Corpus Christi region, as needed.
"I would like to add how thankful we are to our partners at LEEF for working with us to support all students," Ryan said. "We also applaud any and all efforts from our students and community to support families and schools in their time of need. There are so many worthy causes out there and we feel blessed to be a part of such as caring community."
The school supply fund drive ends Sept. 15 and LEEF will order the items for delivery shortly after. For more information about LEEF and how to support the students and schools in LISD, please visit www.leeftx.org. Stay tuned in for RNN's story on how students where effected by Harvey.