The Stream Factor
Derek Galloway, Staffer
March 28, 2017
Hang on for a minute...we're trying to find some more stories you might like.
Everybody loves music. We all want to listen to it, but where do we listen from?
The Raider Rumbler staff conducted a poll on Twitter to determine the most popular music streaming service at RHS.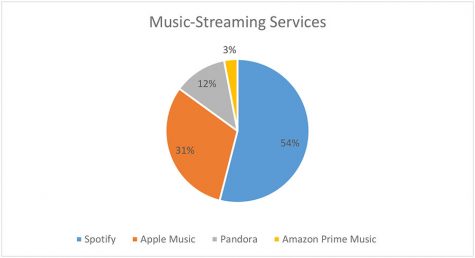 I've had experience with both services and can say I enjoy Apple Music a lot more than Spotify. As an Apple music subscriber, I get early and exclusive content from artists like Migos and The Weeknd. Below are some pros and cons of Apple Music and Spotify.
Apple Music:

Pros:
– Has exclusive rights to artists' like Taylor Swift and Tool
– Offers radio and video streaming services
– Backed by one of the largest companies in the world
– Around 40 million songs
– Has the ability to integrate purchased music with added music
– Family plan (6 acc. $15/month)
– Shareable playlists
– Free trial for three months
– Early access to certain' music
Cons:
– $10 a month, $120 a year.
– Newer service
– No free, ad-based tier
Spotify:

Pros:
– Family plan (6 acc. $15/month)
– Free Premium trial for 30 days
– 20,000 new songs everyday
– Older service: More experience
– Free to use with ads
– Spotify Run: Senses your running pace and matches songs with similar tempos
Cons:
– Free premium trial is two months shorter than Apple Music's trial.
– Privately owned company: No shareholders which causes less funding for new innovations
Compare the services, and decide for yourself.