Club Spotlight: Cause Club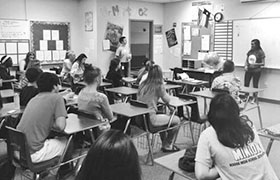 Hang on for a minute...we're trying to find some more stories you might like.
What is Cause Club?: Cause Club is for students who want to be a part of a community of Christians and grow together in their relationships with God.
How many members are there?: Around 20 members come weekly.
When does Cause Club meet?: Coach Hjort's room (2415) or the library on Wednesdays at 8:10 AM
Why was Cause Club started?: "The church I used to go to suggested students start a Cause Club in their school, and it was something I had on my heart for a while. So, I ended up creating the group." -Janet Lagunas, 12
How is the Cause Club different from FCA?: "The style is different, but we have the same beliefs. We are a bit smaller, so it's more closely knit, and people can get more attention if they need it." -Lagunas
What is your favorite thing about Cause Club?: "All of the emotion that comes with it. There is always someone laughing or crying – tears of joy of course." -Jhanyia Miles, 12
What is something everyone should know about Cause Club?: "Everyone is welcome. It's not necessary to go in knowing anything about what's in the Bible, because it's a place to learn." -Miles