That's How He Rolls
Senior's passion for skateboarding allows daily escape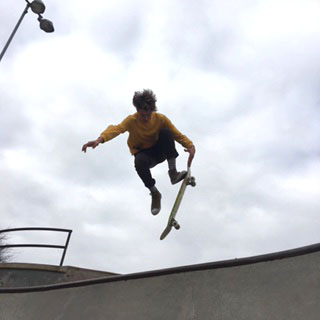 Ilana Williams, Staffer
February 19, 2017
Hang on for a minute...we're trying to find some more stories you might like.
It all started in the 1950s when surfers in California made the decision to create skateboards by putting roller skate wheels on the sides of a wooden board. By the 1980s, skateboarders were making ramps in their own backyards out of lumber, and new board shapes were beginning to take place. Now, skateparks are being built, new companies are emerging, and kids are getting more into the sport.
Senior Korben Wells is one of those kids.
Wells first started skateboarding when he was 12 years old. His dad was a surfer, and always tried getting him into surfing when they lived at Surfside Beach. But Wells never found it interesting. He ended up getting into skateboarding, instead.
"For some reason, when I was little, I was always afraid of 'creatures' in the water, so I never wanted to get in," Wells said. "I usually just chilled on the beach when my dad would surf. Then I got into skating, and that took over and made it easier to not get in the water."
Wells tries to skate everyday. If he can't make it to the park, he goes to street spots with a few friends.
"My favorite thing about skateboarding is the culture," Wells said. "Being able to go hangout with my friends for a day and film each other doing tricks and goofing off on our boards is fun. It's the best feeling in the world."
Wells has been in six races and three contests. At the last event, he went to a local park competition at Brushy Creek Skatepark. There were different sections to compete in, and he eventually advanced to the finals in his section, ending up with third place.
"At the beginning of the competition I was kind of nervous," Wells said. "But once I started skating around and tried getting a higher score, my adrenaline kicked in, which helped a lot. Skating in a competition is way different than street skating. I'm personally not into competitions much because of the crazy atmosphere and the amount of people there. I would rather go skate around town and film for a video part."
For the near future, Wells wants to start preparing for sponsorships for a skate shop or possibly a board company.
"I'm going to get my friends to help me start putting a sponsor me video together," Wells said. "I want to send some videos to a few skate companies and see what can happen."
The most difficult thing for Wells are the days when his skating is off; when he can't land anything. He gets upset, but he knows the next day will be better.
"Once you start skateboarding and you get good, you never want to stop." Wells said. "It's an addiction I'll never be able to cure."