Setting the Pace
On November 12, 2016 the Raider Rumbler 2015-2016 staff received a Pacemaker Finalist Award. Under the Tabloid category with 15 contestants, only five were awarded.
"I think that the fact that there are so few papers nationwide that get awarded makes our achievement so much more satisfying," Editor in chief Michelle Contreras said.
With being on staff for three years and this being the first year awarded the Pacemaker, makes this crowning extra special.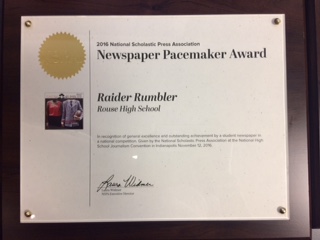 "Being surrounded by amazing  papers from other schools,  and having our dedication be recognized is astounding," Contreras said. "There's so much work that goes into a single issue that people don't typically see, it's nice to have something to show for it."